Teachings of the Wilderness (now titled "Living Off The Grid in Alaska") is Chuck Marunde's latest book, a story about growing up in Alaska in a little cabin far from civilization. While this blog is all about real estate, and most of Chuck's books are about real estate, this book is something completely different and fun.
Teachings of the Wilderness – From the Book
This book takes you back to a simpler time in America when living simply brought great satisfaction, and when being happy was the result, not the goal, of living a good life. The harsh Alaskan wilderness taught me extraordinary lessons that transcend time, and while it has taken me a lifetime to share these lessons, I'm finally ready. [From Teachings of the Wilderness]
I never imagined that growing up in a cabin in the remote wilderness would prepare me for success anywhere in the world, even in the concrete jungles of the metropolis. I had no idea at the time that I was being prepared to experience life to the fullest.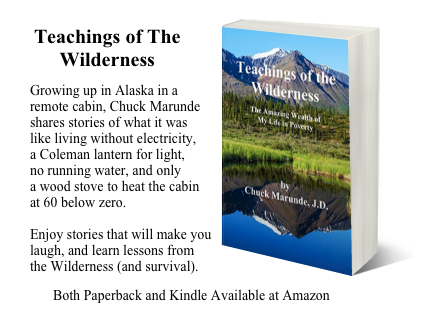 I learned more about how to live a good life growing up in the harsh Alaskan wilderness in abject poverty than I learned in College, in law school, and in the thousands of hours of studying and reading combined. The stories in this book share profound lessons from the wilderness you won't learn in a classroom.
Teachings of the Wilderness on Amazon
You can get the paperback version or the Kindle version at Amazon at Teachings of the Wilderness.
Last Updated on September 6, 2019 by Chuck Marunde