Sequim home prices may be on a slow path to normal, but dramatically increased Sequim home sales are a pretty good indication that this local real estate market may have bottomed out.  Having said that, no one can say for sure that we won't have another dip in the market, but take a look at this chart showing Sequim home sales in various price ranges and take a look again at how sales have increased over last year my earlier article Sequim Real Estate Market Report.  By the way, I write very conservatively, and this is the first time in over 1,000 articles that I have suggested the Sequim real estate market may have bottomed out.
Sequim Home Sales Increase:  A Market Bottom?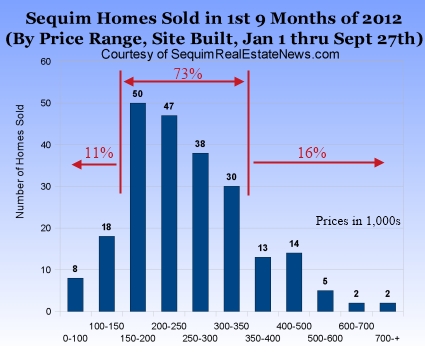 Sequim Home Prices
Seventy three percent of Sequim home sales in the first nine months of 2012 were from $150,000 to $350,000.  Sequim homes sold above $350,000 only account for 16% of the market.  Homes sold above $500,000 make up less than 4% of all homes sold.  If you're interested in exactly what kinds of homes retirees are buying, you might enjoy The Sequim Bell Curve in Real Estate.
Sequim Home Sales for Retirees
First time home buyers, working couples, and investors are buying mostly in one price category, $150,000 to $200,000.  From $200,000 to $350,000 the vast majority of buyers are retirees.  I like the way a graph can display complex data and make sense.  "A graph is worth a thousand words," as Arthur Brisbane wrote in 1911, or words to that effect.  (Actually the newspaper editor was the first to come up with the phrase, "Use a picture.  It's worth a thousand words.").  Sequim home sales by price sold when analyzed with the other two graphs in the above articles is revealing information and may be the best evidence we may be at a market bottom.

Last Updated on September 30, 2012 by Chuck Marunde