What are the most powerful Sequim real estate Internet resources for buyers?  What if there was a real estate agent who took great personal pleasure in giving buyers the best and the most powerful resources online to find their retirement home in Sequim?  What if he had Internet sites and search tools specifically designed and programmed to help buyers do all this at no cost to buyers and with absolutely no requirement that buyers register or share their personal information?  This real estate agent would probably be doing a lot of things outside the box, different than traditional brokers and agents.  This Sequim real estate agent is Chuck Marunde.  There have been many firsts for Sequim real estate along the way, and here are some of them.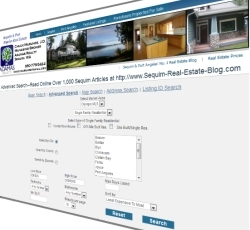 Sequim Real Estate
I've written many articles over the past several years where I would include the phrase, "another first," because each time these new tools were onthe cutting edge and the first time Sequim had ever seen anything like these tools for buyers.  For example, one of these firsts was to create a programmed Sequim MLS search site that included the option to search either the Olympic Listing Service or the Northwest MLS.  For years other brokers had one or the other, but not both, and believe it or not, even today there are brokers who are are members of only one of the MLS's.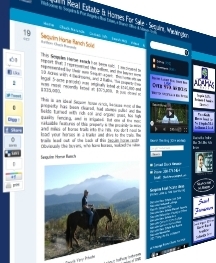 Another first was a Sequim Real Estate Blog with over 1,000 articles dedicated to Sequim and Port Angeles real estate issues, buying and selling tips, prices, negotiating, legal issues (I was a real estate atty for 20 years), and hundreds of issues that buyers want to know about before they buy their retirement home in Sequim or Port Angeles.
Sequim Real Estate

Another first was to have my MLS site optimized for the search engines.  They goal is to make it easy for buyers to find exactly what they are looking for, and connecting buyers with sellers is not only good for buyers, but sellers probably have no idea how important this is in a programmed MLS site.
Another first was to have a series of Sequim real estate videos, over 100, which include more help for buyers on many aspects of buying a home, from making offers to negotiating to inspections to buying land to hiring a builder.
Sequim Real Estate Internet Resources

Another first was to optimize a Sequim real estate blog specifically for buyers.  No one had ever done that here, but buyers wanted it, and so I gave it to them.
Another first (bear with me because there have been many firsts) was to create a large social media presence to continue to bring Sequim real estate resources to buyers wherever they may be looking or networking.
Always seeking to find new and better ways to serve buyer needs and wants, another first was to have a Sequim App (a mobile MLS search) in the Apple iTunes store available as a free download for anyone with an iPhone or iPod or iPad, which is a complete Sequim MLS search tool.

The goal has been to make it easy and convenient for buyers to search for their retirement home in Sequim, but also to give them the most powerful tools that technology has available for them today, and at the same time to allow them to search and use these various tools at their own leisure, on their own time, and without any obligation to talk with a salesman or to reveal confidential information.  The principle at the core of this business model is that clients, not the brokerage, are at the center of the Universe and everything should be designed with that in mind.
Another first was to write and publish a 310 page book just about Sequim and Port Angeles real estate.  The book is a lifetime of education and experience put to words to benefit buyers who want to make wise decisions in their home purchase.  The title of the book is, Buying and Selling Real Estate in the Rain Shadow by Chuck Marunde, J.D.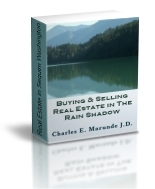 Having practiced as a real estate attorney in Sequim and now as a full time Sequim real estate broker, the book includes articles on how to avoid traps for the unwary, legal issues unique to the Sequim area, and practical tips about buying and negotiating in this local market.  It also details the challenges of working with a home builder and the checklists to avoid trouble.  The last thing a retiree needs when they move to Sequim to live their retirement dream is stress and nightmares.  This book helps make the transition as smooth as possible.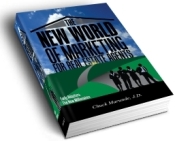 Another first, although this first is more for Realtors than it is for buyers, is the publication of a brand new book to be released within a couple of weeks, The New World of Marketing for Real Estate Agents.  This book teaches real estate agents how to effectively market real estate and serve clients today in this new paradigm of marketing.
Another first, although less significant, but still important to buyers as a valuable tool, is a video which shows buyers exactly how to get the most out of a Sequim MLS search.  This is part of the continuing Sequim real estate videos to help buyers optimize their time on the Internet and find the ideal home in the inventory.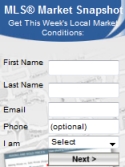 Another first for Sequim is this new real estate market snapshot tool for buyers.  This allows you to look under the hood, so to speak, and see a lot of the data that only Realtors see on their subscription side of the MLS.  You can see active listings and the ones that sold with charts and maps and days on market, the original listing prices and the final selling prices, and much more.

And one last "first" is a live online chat took accessible through the real estate blog, so that if I am online, any client or prospective client can ask me a question live.  This is another effort to provide the highest possible customer service experience.  In addition, I have only one phone number, 360-775-5424.  This is the only phone number on my sites, on my signs, on my business card, and which I have with me all the time.  Do clients take advantage of me?  Absolutely not.  Clients respect my time as I do theirs, but I love to help my clients any day of the week, and when they have a question that they really want to get an answer for, I love to help them any time on the phone or by email.
Does all this marketing work?  Absolutely.  See proof that Chuck Marunde's online system has sold more homes as a Sequim Buyer's Agent than any other this year (calender year from January through September of 2011).  But the whole point of this system is that it is not about Chuck Marunde, but about every single client.  It is about serving clients' needs and designing systems that do that exceedingly well.  That is what customer service is all about in this age of technology.  At the core of this business model is the belief that clients are looking for a professional, experienced, and trustworthy real estate agent, and that the entire marketing system is built with the purpose of creating great relationships that are mutually beneficial.

Stay tuned, because this Sequim real estate agent will continue to be on the cutting edge for buyers, and undoubtedly will be giving you many more "firsts" in the Sequim real estate market.
Last Updated on June 17, 2019 by Chuck Marunde