A Sequim guest house, or what is known as an accessory dwelling unit (ADU) in Clallam County, is a nice addition to your Sequim retirement property.  In this photo you can see what one owner built that would be an ideal Sequim guest house.  A guest house is great for family or friends who come to visit you in Sequim, but some retirees have told me they want to have one for the day they may need a healthcare professional to help them when they get old.  Not a bad idea.  My own father lives in a nice elder care facility in Alaska, but he sure would prefer to live in his own home.  Your Sequim guest house could give you that option.
Sequim Guest House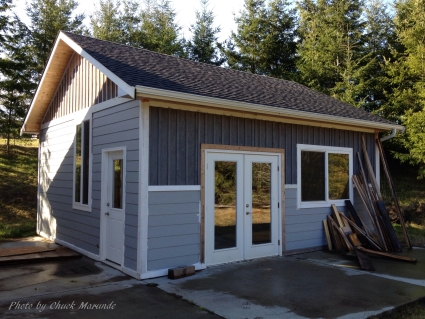 Sequim Guest House Rules
There is a minimum lot size for a property that will have a Sequim guest house.  Parcels not meeting the minimum lot size may be allowed an ADU attached to the main house.  Outside of designated urban growth areas, the property must be at least 1.5 acres.  This standard may be waived by the Administrator where it can be demonstrated that the detached ADU will be served by a community water supply and community sewage disposal system.  I've written in more detail about the code requirements at Sequim Guest House.
Sequim Guest House an Office or Studio
Some folks will have a guest house built but use it as a home office or a hobby room or an art studio.  That can work out quite nicely.  However you choose to use your Sequim guest house, there's no doubt it adds value to your property.
Last Updated on February 24, 2012 by Chuck Marunde