In order to see what the Sequim real estate market will do in the months ahead, I track four important real estate markets, the markets where the majority of our buyers come from.   When all four of these markets begin to show improvement for a reasonable length of time, that will be a leading indicator that the Sequim and Port Angeles real estate markets are poised for a return to steady growth.
What are those four real estate markets?   They are California, Arizona, Texas, and the Seattle-Tacoma metropolitan area.   (As to how I know this, well . . . that's practically patented information.)
Today, we have some good news from Texas. Here's the graphic followed by an explanation: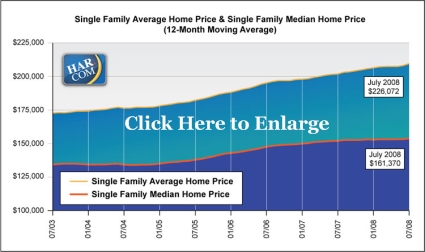 "The average price of a single-family home rose by 8.0 percent in July to $226,072, second only to last month's all-time record high of $227,274. The figure represents the biggest jump in average price since June 2006. The median price of a single-family home rose 3.4 percent last month to $161,370, surpassing its previous high of $160,000 in June 2007. Last month HAR reported a record median single-family home sale price of $162,000 for June 2008, however the revised figure for that month is $160,800. The median price is where half of the homes sold for more and half sold for less."   This data is for the Houston area, courtesy of the Houston Association of Realtors.
Stay tuned for more updates on all four markets.
Last Updated on August 20, 2008 by Chuck Marunde