What if you had the ultimate Buyers Agent (apostrophe intentionally left out) who was your personal concierge helping you filter through homes on the Internet long before you arrived in Sequim, and then walked through your list of favorites with you discussing features and the true fair market value of each home with you? And what if your buyers agent helped you negotiate the best possible price and terms because he had decades of experience, and what if your buyer's agent protected your backside throughout the entire process?
Your Buyers Agent a Personal Concierge
If you had a buyer's agent who did all these things and truly took care of you and watched out for your best interests, including asking questions you didn't know you should be asking, and if this buyers agent walked with you all the way through every detail to closing with the experience of both a lawyer and a Realtor, you would truly have a Real Estate Concierge.
If you know what to look for in a buyers agent, you'll get far more than you ever imagined, and to make matters even better, your buyers agent won't cost you a dollar, because he will get paid out of the commission the seller has agreed to pay in the listing agreement.
Buyers Agent
As the annoying infomercials on late night cable television often say, "But wait, there's more!" What if your buyer's agent answered all your questions for months before you arrived in Sequim, even specific questions about active listings? Here's the kind of Q&A that happens with me and my buyers all the time. This text exchange was yesterday.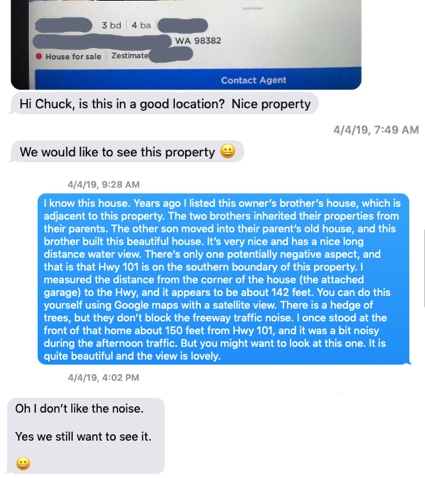 If you read my response about this property, which is in blue, you can see the kind of clear, thorough, and detailed information I am able to give to my buyers, and this kind of question and answer are very typical of the kind of concierge service my buyers get. Having lived here since 1994, and having seen hundreds or thousands of homes, I know many of the homes my buyers are asking about.
If you have questions about a home, text Chuck Marunde at 360-775-5424, and welcome to your Sequim Buyers Agent Concierge service.
Last Updated on April 6, 2019 by Chuck Marunde