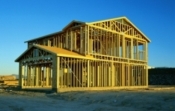 If you're buying a Sequim or Port Angeles home, or getting ready to have one built, you can wait this market out, or you can take advantage of the lowest interest rates any of us have seen in our adult lifetimes. Under 5% for a 30 year fixed rate mortgage? Are you serious? Yes.
I've written elsewhere about Why Building a Home Now is Smart, and that it's A Buyer's Market in Sequim, and I wrote articles here about Low Interest Rates and The Perfect Storm, but who would ever have guessed that interest rates would be at levels as low as half a century ago?
I believe that when the market starts to breath again, inflation will slowly bring prices upward, but one of the first economic variables to go up is usually interest rates, so don't be surprised if they dip as the are now to sub-five percent, and then level and start to climb in 2009.
If you are going to build or buy an existing house, now is nearly the Perfect Storm opportunity with interest rates at historical lows.   A low monthly mortgage payment.   That sounds kind of nice, doesn't it?
Last Updated on December 22, 2008 by Chuck Marunde