The topic of discount real estate commissions comes up in articles published a couple times a year by journalists, which then enourages FSBOs (For-Sale-By-Owners) to try to sell their own homes or find a broker who offers discount real estate commissions. I'm a real estate broker and real estate attorney (ret.) who is in constant pursuit of the truth on all things real estate (and in the rest of my life). Because of misconceptions about discount real estate commissions, today I want to share some important truisms on this subject.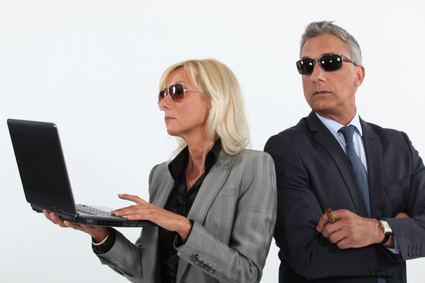 Discount Real Estate Commissions Working?
There are a number of brokers across the country experimenting with discount real estate commissions (as well as multi-level commissions or "profit sharing" as they like to call it), but none are setting the world on fire or attracting top talent. A full time professional Realtor cannot make a living if they only get paid $50 for showing a house and $100 to present an offer. That's simply not a sustainable service. [Read about one broker offering Discount Real Estate Commissions.]
Redfin is the largest brokerage offering discount real estate commissions, and they have struggled to survive, although they've been in business for 10 years. Today they are still not profitable, which means they are losing money every year. Their investors are still hoping that someday Redfin will become profitable, but it hasn't happened after a decade. It is not a sustainable business model. [Read more about Redfin's failure.]
Another Seattle broker offers discount real estate commissions by listing property for a flat fee of $350.00. For that the property owner gets their property listed in the Northwest MLS, plus they get a little sign and some flyers. I've personally interviewed a half dozen people who used that service over the past decade, and all of them were angry at what they perceived to be misrepresentations in the services they thought they were going to get, and none of them sold their homes with that service.
There's an old saying, "You get what you pay for," and that is true in real estate today. Here's what I think. Since discount brokerages don't give consumers the high level of professional experience consumers need, and because a discount brokerage has never proven it could provide good service to buyers and sellers, and because it is not a sustainable business model, I think there is another truth. Discount brokerages are founded by entrepreneurial people who have one purpose–to create a profitable business for them. They may get other Realtors to work for them at what is practically minimum wage, but they intend to get rich themselves. There's nothing wrong with that. This is America, the home of capitalism. But don't get the wrong idea that a discount brokerage is altruistic or built with the purpose of saving homeowners money.
The reality is that discount services do not give homeowners the knowledge or tools or services they need to effectively sell their home to the most qualified buyers at the highest price in the least amount of time.
Imagine a FSBO trying to market their own home. I've written about the five huge challenges a FSBO has in marketing and selling their home:  Should Buyers Look for a FSBO?
The NAR (National Association of Realtors) published a national survey that showed 85% of FSBOs give up and list with a Realtor to get their homes sold. By that time, they've lost six months to a year, and have experienced a lot of stress and frustration. (How much would that be worth?) Half of the remaining 15% give up on selling their home, and ultimately only 8% of FSBOs across the U.S. get their homes sold, and that is almost entirely in metropolitan markets that are very hot where homes are selling in a matter of days with multiple offers. But in rural areas, FSBOs as a percentage of sales may be as low as 1%. We don't have data on this kind of local information, but in 22 years in my local market, I can count on one hand the FSBOs that I know of that have closed. Trying to save a commission or find someone who offers discount real estate commissions were the least of their problems.
This graphic shows some of the reasons FSBOs fail most of the time. It has more to do with marketing and connecting with qualified buyers than anything else. Click on this image to enlarge it.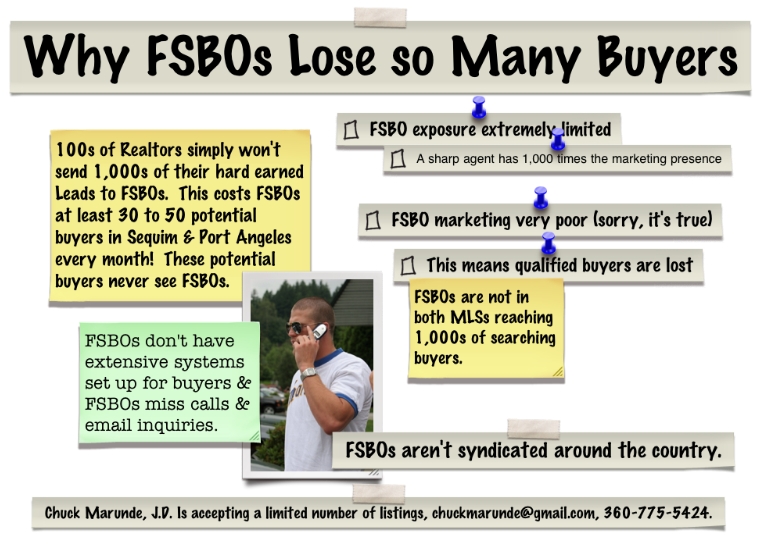 I started in real estate 40 years ago, and I was a real estate attorney for 20 years. I've seen many overpriced FSBOs by very sincere homeowners. Apart from the price there is also the negotiating, the contracts, the due diligence buyers want to do, and the legal liabilities the seller takes on, including frivolous lawsuits by buyers suing sellers because they claim they did something wrong. There is so much to know to stay out of trouble. If it has taken me a lifetime of full time hard work to learn to handle every aspect of real estate, how would an inexperienced FSBO hope to do everything right by trial and error? It would be dangerous to risk so much simply to save a commission. A single mistake could cost many times the commission. [Read FSBO Asks About Price]
If it's hard for a FSBO to sell their own home (FSBOs do have a 92% failure rate), and if it's hard to get top dollar with a professional full time Realtor at regular commission rates, how much less does a homeowner (and a buyer) get with a brokerage operating with discount real estate commissions?
Discount Real Estate Commissions
What clouds the issue of selecting a good Realtor who is worth their money is that so many homeowners have had bad experiences with their listing agents. In my books, The Seven Myths of Selling Your Home and The New World of Marketing for Real Estate Agents, I explain how the vast majority of brokerages today are operating out of a 20 year old business model. They have not made the transition from the old world of print advertising that doesn't work anymore to sell real estate, and the new world of technology and Internet marketing. The Internet is the greatest tool every invented for buyers and sellers, but it does not eliminate the need for good marketing and professional experience. Discount real estate commissions are far from a panacea for consumers, because discount brokers don't offer the marketing and are not full service brokers. The seller has to do all the hard work. That's a challenge because it takes literally years to build a powerful marketing system that connects with qualified clients, and it takes a lot of learning and research and development, not to mention the years it takes to understand contract law, marketing, negotiating, due diligence and inspections, financing, and good communication skills.
A great Realtor is well worth the commission they earn, but one could make a case that the majority of Realtors are not at the level they should be in terms of real estate knowledge, experience, competence, professionalism, and integrity. If they are not at the level they should be, they may not be worth a full commission. A seller who has had a bad experience with a listing agent who made big promises with a three-ring binder and a color glossy presentation, and then did nothing more than throw the listing into the MLS and wait for another Realtor to sell the property, is justified in arguing that a Realtor like that is not worth a 6% commission.
The bigger problem is that if a Realtor is not worth a full commission because they do nothing but throw the listing in the MLS, or they do not have the requisite skills or integrity to do what a homeowner expects them to be able to do,  then that same Realtor is not worth a discounted real estate commission either.
I have seen inexperienced or incompetent Realtors make a mess of negotiations and even kill transactions. Forget the commission, how tragic would it be for a seller if their own Realtor kills the transaction out of incompetence? Happens all the time. But a great Realtor does everything possible in terms of marketing, and then does an excellent job negotiating, and also does a professional and courteous job communicating with everyone. That kind of Realtor is worth 3% on their side of the transaction (and 3% for the listing side agent for a total of 6%). You won't get that high level of professionalism at a brokerage experimenting with discount real estate commissions.
I wrote earlier that you get what you pay for, and any brokerage that is charging only hundreds of dollars for representing a buyer or seller (or any small percentage), is going to give service commensurate with their schedule of discount real estate commissions. That means a lower level of experience and professionalism. The best professionals don't work for minimum wage. It also means the discount listing agent has not built a large marketing system to connect with the most qualified buyers, because there's not enough money to support it, and there's not enough time either, unless the Realtor wants to work for fifty cents an hour, and that's not going to happen.
I could give a hundred examples of when I represented a buyer or a seller and got to closing when there would have been virtually no possibility they could have gotten there alone. In one case it was a short sale. The seller had no idea how to navigate the short sale application process. The buyer did not dare step into that hornet's nest without a buyer's agent who really understood how a short sale works. The whole process is full of traps for the unwary.
I represented a seller who had been burned by a prior listing agent, and who was told by that broker after the listing agreement was terminated that he would never get what he wanted. Four days after listing it, I got it sold at full listed price, which was what the prior listing agent said was impossible. The difference in price essentially paid my half of the commission
A broker who offers discount real estate commissions (and frankly the majority of traditional brokers) does not use the latest and most effective marketing tools. I have an extraordinary three dimensional virtual tour camera with nine lenses, and I also have outstanding aerial videos, not to mention professional quality digital photographs. On top of that I have a marketing system of thousands of articles written and optimized for buyers. And I have three MLS sites for consumers that have been designed and programmed exactly the way buyers want. None of these powerful services and none of this experience would be possible in a brokerage that operates on very limited services with discount real estate commissions. Then again, even traditional brokers are not at this level either.
If a seller doesn't connect with the most qualified buyers, he may not get top dollar for his property. The real estate industry has been teaching Realtors that "listings are the name of the game," so most listing agents list but don't build a powerful marketing system to buyers. Home sellers don't know all this. They assume that their listing agent has built a large and effective marketing system, but that is not a safe assumption. I do explain all this in The Seven Myths of Selling Your Home.
Discount Real Estate Commission Myth
It is popular for journalists who have not invested in a real estate career themselves to write about discount real estate commissions. It is an appealing idea, and it attracts readers, just like articles about sex and weight loss. But in reality, discount real estate commissions have never worked effectively as a business model for profit, nor have they given consumers the services they needed and wanted. Granted there are a some homeowners and buyers around the U.S. who will insist it worked for them, but if discount real estate commissions worked well, that business model would now dominate the market. I've been tracking real estate brokerage models for decades (four decades to be precise), and I've written extensively about the failure of traditional brokerages and how technology and the Internet are dramatically changing the industry for buyers and sellers.
In my own virtual brokerage, iRealty Virtual Brokers, I made the transition 10 years ago, and today my brokerage has the largest Internet presence of any broker in my market. The proof of our business model success is in our sales record. I am the number one selling agent of all homes by volume sold above $200,000 for the past seven years (Jan 1, 2009 through Dec 31, 2015), and what's amazing is that my sales record has even beat the "teams" of multiple Realtors at the franchise brokerages.
Not only does this new model connect with highly qualified buyers, but it is the most effective way to market homes. One seller told me, "We thought we needed to list with a listing agent, but after a year of frustration and no marketing by our listing agent, what we should have done is list with a buyer's agent like you who has a massive marketing system to buyers." That client did list with me, and I got their home sold. This points out the evolving changes in the real estate business, so that the line between the traditional listing agent and the buyer's agent is no longer black and white. A buyer's agent may actually be the best listing agent in today's Internet world.
I would close this discussion with this thought. The key for a seller today is not trying to find a service that offers discount real estate commissions. The real key is trying to find a highly competent and honest Realtor who has a large Internet marketing system. My business model and my clients are living proof of this, and all the frustrated clients who were FSBOs and tried discount real estate commissions would testify to what I am writing, but you never hear their stories, because they are not writing about it and journalists don't like to write about all the bad experiences either.
There are many problems with the real estate industry today, and Realtors don't like to talk about the problems or how consumers fare. I do write about these things, and I do it with consumers at the center of the Universe. I believe a brokerage should be structured around the best interests of clients, and I believe honesty and integrity are everything.
There's much more to this whole explanation about the industry and discount real estate commissions, so I strongly recommend The Seven Myths of Selling Your Home.
Last Updated on September 6, 2019 by Chuck Marunde