What is the biggest mistake in real estate?  What mistake do buyers and sellers make that is so big and is repeated regularly and has been for decades?  If I just told you without setting the stage, it might not mean much.  You might not even believe me.  You might think it is just hype, or cheap sales talk.  But it's not.  I stretch myself every single day to help buyers and sellers avoid mistakes in real estate and to make wise decisions for their own futures.  So what one mistake is at the root of many mistakes? 
Biggest Mistake in Real Estate – Teacups Included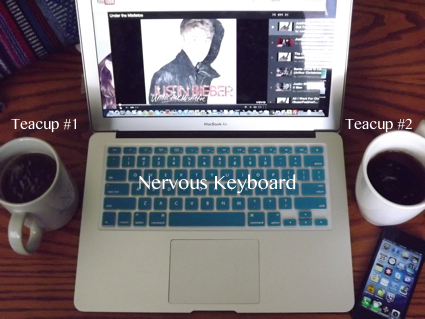 Last night my 17 year old daughter had a friend over.  While they watched a movie, texted on their cell phones, and watched a Youtube video on her Macbook Pro all at the same time, they also sipped on tea. Here's where it got interesting.  They set their tea cups full of hot tea next to the laptop, one cup on either side.  I paid $1,400 for that laptop, and you can imagine my nervous glances at those two tea cups.  My mind created a short Youtube video of its own.  In it the girls were laughing real hard and one of them inadvertently overturned one of the tea cups, and hot tea covered the keyboard, smoke rose instantly from the keyboard and a few sparks crackled and popped before the laptop went dark.  Somehow that mental video was set to replay.  Being a responsible father, I suggested they move their tea cups away from the keyboard. As if on queue, they both moved their cups two inches.  My inner self was not comforted.  (Hold on, this is related to my point about the biggest mistake in real estate.) 
Biggest Mistake in Real Estate Little Known
What my daughter does not yet comprehend is risk.  Because I know there is a small risk that I could accidentally spill my coffee on my keyboard, I never . . . never place a cup of coffee or any liquids near my computer.  The risk of losing a computer worth thousands of dollars and more importantly, losing years of precious data, letters, information, and photos, is simply not worth the risk. Any cost-benefit analysis proves that in a heartbeat.  Likewise, I never hold my cell phone over a toilet. The chance that I would drop it is extremely small, but there is still a chance, and why take that kind of risk?  Where's the equal benefit?  (Yes, my daughter dropped her last cell phone in the toilet.  What are the odds of that happening?)  Have you guessed what the biggest mistake in real estate is?
Biggest Mistake in Real Estate
When it comes to buying real estate or listing real estate for sale, I see people put the hot teacup next to their computers all the time, figuratively speaking.  They mean well, but like my sincere daughter, they don't know the risk.  They don't realize they are making the biggest mistake in real estate.
There are many mistakes that buyers and sellers make in real estate.  For example, sellers often don't market their property right.  Buyers often don't do their due diligence correctly.  Both buyers and sellers often make major mistakes in negotiating the price or other specific terms.  But most of those mistakes are the result of the same fundamental problem.  Lack of knowledge certainly can be a factor for a buyer or seller on how to handle some aspect or many aspects of a transaction, but ultimately most buyers and sellers hire a real estate agent.  
If the agent lacks knowledge in any of these areas, guess what? Poor advice from negotiating to closing can mean big and little mistakes.  Mistakes translate into stress and sometimes money. Advice that lacks knowledge and experience can result in disaster.  Hire an inexperienced real estate agent without the knowledge, professionalism, and integrity, and you could be putting that hot teacup right next to your keyboard.  Your transaction might turn out just fine, or . . . you might find out the hard way that your agent did not know what you needed to safely negotiate your transaction from beginning to end.  Do you really want to take that risk?
Or you could push the teacup away from your keyboard.  You could hire the best or the most experienced real estate agent, and you've just eliminated the risk of a major disaster.  What's interesting is that hiring the experienced professional does not cost one penny more than hiring the least experienced.
Who hasn't heard the nightmare stories?  Hire an inexperienced agent and you stand the risk of making the biggest mistake in real estate.
Last Updated on September 20, 2019 by Chuck Marunde