A couple from Silicon Valley recently traveled to the northwest to consider Sequim and view some homes with a Realtor. I had a delightful time visiting with them and answering their questions about living in the Sequim area, the recreational activities, volunteer opportunities, the true size of the Sequim Blue Hole, and many other lifestyle questions. We also looked at some beautiful homes. Like many buyers, they had done their research online long before they came, and they chose me as their Realtor and Buyer's Agent. But I'm a different kind of Realtor, and I thought today would be a good time to explain why I see myself as a non-traditional Realtor. While this is certainly a shameless self promotion, what I have to share is genuinely true and unique.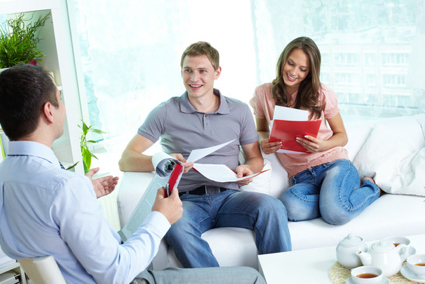 Realtor Guides Buyers
The Silicon Valley couple loved one home we looked more than the others, but they weren't ready to make an offer. In fact, they went back home and decided they weren't ready to buy a home in Sequim. We debriefed on the phone afterward. They shared that they had a wonderful time in Sequim and enjoyed their time with me, but they felt guilty, because they thought they wasted my time. My response to them might surprise you.
Realtor With Different Mission
The time I spent with them fulfilled my mission. In other words, the time I spent with this wonderful couple was not wasted, because my focus is serving others, and in this case serving this couple meant answering questions, showing them around Sequim and viewing some homes. Whether their decision was to buy or not to buy, I was fulfilling my mission, which is serving their needs. By serving their needs, I am serving mine.
Why is this dramatically different for a Realtor? Because for the average Realtor the goal line is closing the sale. It is earning the commission, which will only happen if the buyers sign an offer, and a sales person will want to get that done asap. Time is money, right? The problem with that kind of personal mission is that it often drives a Realtor to be a high pressure sales person, or to push their buyer into a home to earn a commission. That might lead to compromising the negotiations, and maybe even pressuring a buyer to pay more for a home than they have to. It could mean not paying attention to important details that could hurt a buyer later, such as not doing the due diligence the buyers need done. 
As a Realtor, my personal focus is always to place my client's best interests at the center of the Universe. My commission is not a consideration. I cannot tell you how many hundreds of buyers have loved this kind of focus. They tell me they find it refreshing. So when I told my Silicon Valley clients that our time was well spent and a success, even though they are not going to buy a home in Sequim, they were a little surprised but very appreciative. My time with clients is never wasted, regardless of the outcome, because my mission is to spend quality time with each client, and ultimately to help my clients make wise decisions for the next exciting phase in their lives, whatever those decisions might be. 
Now here's what I find fascinating. I don't focus on the close, but I am the number one selling Realtor in the entire county for the past two and a half years. I don't even advertise. I have always said, "serve your clients faithfully, and the money will take care of itself."
Don't get me wrong, the Realtor you hire should have a good resume (the real estate knowledge, experience, competence, professionalism), and he or she should have integrity [See Chuck Marunde Resume]. Of course buyers want those qualities in their Realtor, but I also think character matters. Whether you hire me as your buyer's agent or another Realtor, I strongly encourage you to choose a Realtor who genuinely puts your interests at the center of the Universe above his or her own commission.
Last Updated on September 7, 2019 by Chuck Marunde