Do you want a home with privacy? Many couples who move to the Sequim area do want a home with privacy, although how that is defined may vary slightly. When buyers tell me they would like "some privacy," I asked more questions. This article will share some insights on what a buyer's options are when it comes to getting a home with privacy, and how to find a home with privacy in the Sequim, Port Angeles, Port Townsend, Port Ludlow, and Port Hadlock areas.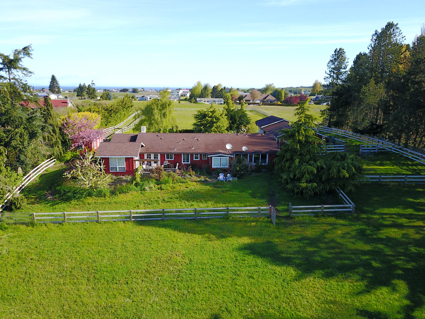 Home With Privacy Defined
I ask buyers who want privacy how much acreage that means to them. Almost 100% have told me that "it's not a matter of acreage as much as it is how the lot is situated, the trees, and the vegetation that separates them from neighbors." So that could be a half an acre in some areas, but many times it means one to 3 acres, or more. It's rare that someone finds a 10 or 20 acre parcel out here that defines a home with privacy for them. It's also nearly impossible to find a parcel of land that large these days. Five acres is the largest common size a buyer will find in the Sequim area, but even a five acre parcel in the right area is very hard to find.
How to Find a Home With Privacy
Here are a couple of suggestions if your ideal property is a home with privacy. First, use Sequim-Homes.com to search for homes with at least one acre and no more than five acres. If five acres would be a lot more than you want to maintain, than search one to 3 acres. On this Sequim MLS site, there is a map on the detail page, and you can look a property with the satellite view so you can see what is all around the property. The photo above is a home with privacy on 2.5 acres. What a gorgeous property, and with the trees on either side, total privacy.
What about maintenance? Who wants a lot of acreage if you have to work outside all the time? You're supposed to be retired, right? You can do what a lot of Sequimites do. You can mow a small fenced area around the house, plant some flowers, and leave the fields to grow naturally on the rest of your property. That's what I do, although I do mow the fields a few times in the spring when the grass takes off after being dormant all winter. The cute home with privacy in the photo is my home. I absolutely love my little place. It's my idea of Heaven on this earth. A home with privacy.
Last Updated on September 6, 2019 by Chuck Marunde