You won't find a home like this in all of Sequim and Port Angeles. This is a gorgeous country home at the end of a cul de sac with nothing but trees and mountains beyond the house on all sides with a stunning view of Hurricane Ridge, a massive mountain. Everything you need is on the main floor of this home with a huge open floor plan and lots of mountain views, hardwood flooring, a wood stove, and an efficient heat pump with forced air electric. There are outbuildings for wood storage and a garage/shop or wood shop, plus an attached carport on the house. Extra large bedrooms are upstairs and a game room or an office/den downstairs.
What makes this listing so special in the Sequim and Port Angeles area?
1.) The inventory for homes like this is about zero. Many retirees have sold their homes in California or Colorado or Texas or Florida, and they are on the hunt for a home in the Sequim and Port Angeles area. As several have said to me, "We need to find a home or we'll be homeless." The inventory for nice homes like this is extremely low, practically non-existent. Even in a small market like this, on any day of the week, we must have two dozen buyers filtering through the online MLS to find their home.
2.) It's very hard to find the ideal location with a view. Everyone knows that location is everything in real estate, and who doesn't want a beautiful location with some kind of mountain view or water view, or at least a valley view with fields and grazing animals? This home has an incredible view with privacy.
3.) A traditional floor plan with 3 bedrooms and 2 baths and 1,800 sq.ft. plus is also hard to find now. In many markets, this kind of traditional open floor plan with a modern kitchen is not hard to find, but it certainly is in this market between $450,000 and $650,000.
4.) A nice neighborhood where the lots are large enough to provide some measure of privacy and room for gardens is in high demand. People generally don't move to the Northwest to the Olympic Peninsula to live on a postage sized lot in a subdivision with houses 15 feet apart where you look out your kitchen window only to see your neighbor in a white T-shirt waiving from his/her own kitchen window.
The link for the 3D Interactive Virtual Tour is no longer available.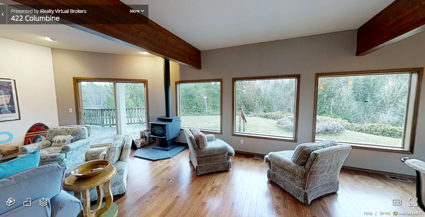 Buyers love these interactive 3D tours, because you'll know right away if this is a home you need to walk through.
You won't find another home like this on the market. You can view this home in person by texting or calling Chuck Marunde at 360-775-5424. You can see the full online MLS data sheet at New Listing. 
Last Updated on January 6, 2021 by Chuck Marunde