Could there possibly be a shortage of Sequim homes for sale? How could there be a shortage in this recession when everyone knows there is a glut of homes for sale and a lot of foreclosures on the market? How could I even broach the subject suggesting that there may be a shortage of Sequim homes for sale? If you were retired and came to look at Sequim homes for sale, and you could not find a nice three bedroom, two bath, single level home on a nice (somewhat private) lot and at a reasonable fair market value, having searched for months before you got here and for a couple of weeks while you were here, you might begin to think that there is a shortage of homes for retirees. This is what is happening to some retirees. Let me unpack this whole subject in a way that seems to make sense in light of the apparent contradiction.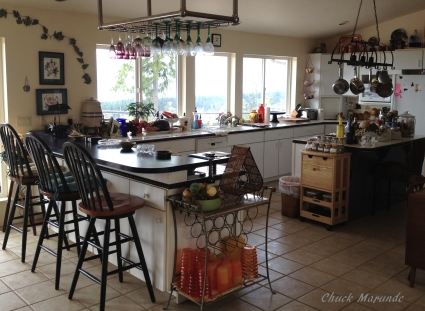 Shortage of Sequim Homes for Sale
My argument is based on several facts from my own clients' experiences, on the extensive data I am able to pull from our Multiple Listing Service (MLS) by tracking listings and sales over the past several years, and from the emails, comments, and telephone conversations I have with many retirees going back to 2005 when the real estate market peaked and commenced its long decent.
The fact is in the Spring of 2012 many retirees are unable to find their ideal home from the inventory of Sequim homes for sale listed in the MLS. In an article I wrote about two years ago, I identified a developing pattern in the market. I noticed that the market was bifurcated. I described how retirees were coming to Sequim with a selected list of 6 to 12 homes to look at. This small list was filtered from their searches in our Sequim MLS and based on their parameters narrowed down from hundreds of homes. After months of looking at homes online, comparing features and viewing hundreds of photos of homes, and after numerous emails with me about the neighborhoods, the adjacent properties, the actual views from the house, they narrow the list to a selection of 6 to 12 homes. Here's where it gets interesting. 

Sequim Homes for Sale Selling
While out showing these clients homes, one or two and sometimes three of the homes on the list were sold out from under us. Some went into pending status the day before or within a week before my clients arrived in Sequim. I kept asking myself, "How is it that in this real estate recession and with such a huge inventory of Sequim homes for sale, and with a much smaller cadre of buyers, homes keep selling out from under my clients? If this happened once or twice, I would not have thought too much about it, but after many times, it became apparent to me there was a definite pattern.
I finally figured out that retirees tend to filter down to the same several dozen homes. The vast majority are looking for the same features in a home and the same kind of nice area, floor plan, custom quality, and so on. There aren't that many that fit these parameters. In my earlier article a couple of years ago, I suggested that the best homes in the best areas at the best prices were being bought each month, albeit slowly, by retirees, and once a home is sold, it will be gone from the inventory of available Sequim homes for sale for many years.
Move forward to the present. The best homes in the best areas at the best prices (that are also single level, 3 br, 2 bath) have in fact been selling every single month during this recession, and that short list of ideal homes for retirees has gotten smaller. Granted, some new homes that fit that description are coming on the market periodically, but not as fast as they have been selling. During the calendar year 2011, an average of 21 homes sold every single month of the year in Sequim and Port Angeles, and that only includes homes between $200,000 and $600,000. Retirees are the primary buyers, and when these homes are sold, they are out of the inventory. That means every month 21 of the best homes in the best areas at the best prices are gone.
What else is happening that elevates this topic to this real estate blog? Recently many buyers are having a harder time finding their ideal retirement home here at a reasonable price, more so than in the past two years. This has created an interesting scenario where buyers have a sense of urgency and have turned their radar on to watch for new listings that fit their idea of the perfect retirement home. Some of these homes are selling in a matter of days after showing up in our Sequim homes for sale MLS.
But there is even more evidence to consider. Some of these listings are suddenly getting two or three offers, which is surprising all of us, including the selling and listing agents, and the sellers. In one case one of my clients made an offer on a home for less than the listing price, and we learned the same day another offer came in at full price. Go figure! I have three pending transactions right now, and all three were written up as full price offers and accepted. We haven't had full price offers like this since 2005. I'm not saying this is happening in large numbers right now, but the fact that this is happening and that it follows the developing patters I've been watching is a significant indication that there is a shortage of homes in this niche.
Sequim Homes for Sale in Bifurcated Market
In other words, if we consider the homes the vast majority of retirees want, which are homes in the smaller segment of the bifurcated market, making up less than 5% of the inventory of Sequim homes for sale, I think it is fair to say that there is a shortage of homes. It doesn't matter to these buyers that there are hundreds of other homes on the market. Those homes are not in their filtered list.
Here's a simple analogy. If you want a particular kind of faucet for your sink, you might go to Home Depot. But what if Home Depot doesn't have the kind you want or anything real close to that kind of faucet? You might go home and say to a neighbor that you went to Home Depot and couldn't find a faucet, but your neighbor might respond, "Oh yea, Home Depot has an entire isle of faucets, hundreds of faucets from $13 on up to $200, stainless steel faucets, gold faucets, all kinds of faucets." And you might say, "Yea, but they don't have any faucet like the one I want." It doesn't matter that they have a large inventory. They don't have what you want.
This is what is happening to many buyers looking and searching the Sequim homes for sale. This is why I suggest that some retirees might conclude that there is a shortage of Sequim homes for sale in our MLS.
Last Updated on September 6, 2019 by Chuck Marunde