Real estate branding was big in the '60's and '70's and even in the '80's, but is it today?  How do buyers and sellers find a real estate agent today?  Remember the big bill boards with the big franchise names?  Remember the Sunday newspapers with full page ads?  I talked to a broker who owned a large franchise, and we reflected on how newspaper ads were less about selling a particular listing than they were about branding the company name.  You don't see as many big brokerages advertising en masse like this anymore.  Why?  What has changed?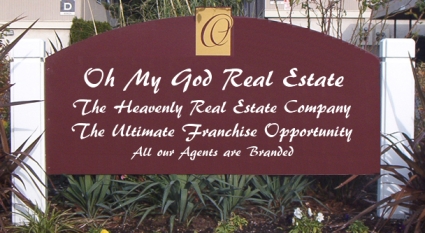 The term "branding" was used by corporations to describe how massive traditional advertising got into people's heads and became a constant reminder of that company whenever people thought of the service.  Whenever someone thought about buying or selling real estate, the huge franchises wanted people to think "Oh My God Real Estate," and walk into their office or call them.  But that's not working like it used to.  Real estate branding doesn't work the same anymore. 

Is Real Estate Branding Dead?
Real estate branding from decades past is dead, but branding itself is not dead.  It has evolved in our new world of technology, and the kind of branding we must do today is substantially different than yesteryear.  I like to say that technology and the Internet has changed the way consumers shop for everything.  Instead of having advertising shoved down our throats with what Seth Godin has nicknamed "interruption advertising," consumers are now in control of what they shop for and the information they receive.  Consumers have not only embraced this new world of technology, they have no intention to go back.
"Traditional consumers aren't coming back.  Print advertising isn't coming back.  Media, brands, and the established narratives aren't coming back.  And almost everyone will eventually make this transition."  Nick Bilton, I Live in the Future & Here's How it Works
"The question that so many marketers and PR professionals think they face today is giving up control of their brand.  The truth is they never had it.  The brand has always resided in the hearts and minds of our consumers.  What has changed is that we no longer control the message."  Duncan Wardle, Vice President, Global Public Relations, Disney Parks & Resorts, speaking to Bulldog Reporter's Media-Relations Summit 2008, as quoted by Paul Gillin in Secrets of Social Media Marketing.
"Your customers don't care about you. . . . They don't care about the success of your company. . . . They care about themselves, their dreams, their goals.  Now, they will care much more if you help them reach their goals, and to do that, you must understand their goals, as well as their needs and deepest desires."  Carmine Gallo, The Innovation Secrets of Steve Jobs.
I've been asking clients for years how they shop for their real estate agent and how they search for real estate.  I asked hundreds of clients if they first look for the big name brokerages, and 100% of them have said absolutely not.  The big names don't mean anything to consumers anymore.  Expensive T.V. ads and print ads and bill boards no longer impress consumers.  In fact, they intentionally ignore this kind of obnoxious in-your-face advertising.
Buyers Are Not Fooled by Real Estate Branding
Buyers know what they want, and they know how to find it today.  Buyers are not dumb and manipulative advertising and real estate branding doesn't fool them.  The thing that consumers (buyers) love the most is that they are in control now.  Traditional real estate branding is dead.  There's a whole new world of real estate, and it doesn't reside on signs or in newspapers anymore.  But buyers know all this, so I'm singing to the choir here.  As a buyer, don't you love being in control of when and how you search for real estate?  That's why I've built this real estate blog and many free online tools for buyers to use without being forced to advertise or even talk to a sales person.  The real estate branding I do is nothing like the branding we grew up with, but consumers love their new freedom.  So do I.

Last Updated on May 3, 2012 by Chuck Marunde