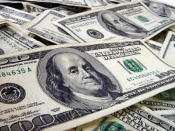 Buying a home in Sequim or Port Angeles?   In 30 years in real estate I have not seen a buyer's market like this.   I recently wrote a comment on another forum saying it is definitely a good time for qualified buyers to buy a home.   Another forum contributor writing under the name of anonymous, lashed back, "Realtors always say buy buy buy.   You can't trust what a Realtor says."
I am a Realtor, but that doesn't mean it isn't a buyer's market.   Let's face it, it is most certainly a buyer's market like none of us have seen in decades.   Obviously, there is a serious credit crunch out there, and we are in an economic rescession.   The real estate market is tanking on a national level, and some areas are worse than others.
Look.   Cash is king.   It always is, but especially in a market like this.   If you have cash, and/or a really great credit rating, and you have been planning to buy real estate in Sequim or Port Angeles, you're in the driver's seat.   Find your dream home and name your terms.
Need an exclusive buyer's agent to help you negotiate the best price and terms?   Email or call (360.775.5424).     Thirty years in real estate, 20 in real estate law, Internet website and blog developer, business development strategies that help connect with you, and negotiator of many hundreds of transactions.   I would consider it a privilege to work with you.
Last Updated on October 3, 2008 by Chuck Marunde