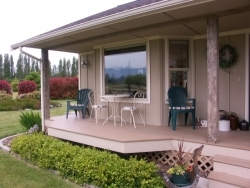 It's a buyer's market in Sequim, Washington (and in Port Angeles), and if ever a buyer had the advantage, it is now.  There are five very clear reasons this is a buyer's market right now on the Olympic Peninsula:
1.  It's winter, and these next few months are the slowest time of year for selling real estate.  If you are a qualified buyer and you make an offer on a home, you will definitely have the seller's attention, who will understand that if he is serious about selling, he must carefully consider your offer.
2.  The inventory is large.  Buyers have choices now they didn't have in 2005 and 2006, when houses were selling like hot cakes.  But this doesn't mean that buyers have all the time in the world to dilly dally, because the best of the best homes are selling.  I've written elsewhere about how buyers are cherry picking the best homes.
3.  The IRS buyer's tax credit will not last forever.
4.  Interest rates are at or near a historical low for the past three decades, and that will not last forever.
5.  Sellers are motivated.  They're motivated not only because of the time of year, but because many wanted to be moved before winter, and they are not.  Some are motivated for financial reasons.  They've made other plans, own another home in Arizona, and it's time to sell this home and get out from under a second mortgage payment.
If you plan to buy a home or land in Sequim or Port Angeles next spring or summer, may I make a bold suggestion?  Buy it now and save a lot of money.  The competition next spring will be substantially greater than it is now.  You will be in a much stronger negotiating position  in the midst of winter compared to the hot spring and summer market, and that would be a good thing.  Right?
Search the entire Sequim MLS and Port Angeles MLS here.
Last Updated on July 27, 2012 by Chuck Marunde