Question: My father in law recently died and he and my mother in law were on title to their home (as husband and wife) and they have a loan on it. Now she wants to add my sister in law to title and they would be joint tenants. Does that constitute a change in ownership? I'm asking because I want to know if the bank could call the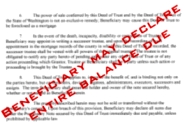 loan due.
Answer: Technically, yes. If your sister-in-law inherited, the loan would not be callable, but by transfer with a QCD, it is a transfer that would trigger the due on sale clause.
But here's the reality. I've never seen a bank actually enforce the due on sale provision, and the only apparent situation in which they would consider doing it would be with a blatant attempt to have new buyers assume the loan through a third-party escrow. The only way they normally would even discover the transfer is an update to the homeowner's insurance policy, which lists the bank as an insured, and of course, the bank (or the servicing organization) gets the insurance docs. Even then, they don't often have database inter-connectivity. That's because you normally have a mortgage company or financial institution that originates the loan, which is later sold on the secondary market. The loan servicing company is usually another third party company located somewhere else in the country. After a few years, a loan can be transferred more than once in the secondary market, and there may be more than one loan servicing company in the chain of all these transfers. The right hand in Milwaukee never knows what the left hand in Miami is doing. Different companies, different responsibilities, and different liabilities.
Years ago I talked to three loan officers at banks about due on sale clauses and transfers of this kind, and all three said almost the exact same thing. "We could enforce the clause, but we never do. We have no interest in declaring the entire balance due. But we could, although we never would, and I would deny we ever had this conversation."
I think your mother-in-law is fairly safe adding your sister-in-law to the title. Just let her know that technically, the loan balance could be called. Of course, in these present times in which the mortgage industry is in great chaos, any loan that is current is highly unlikely to receive any scrutiny.
Best Regards, Chuck Marunde, J.D. Broker/Owner/Realtor (Ret. Real Estate Attorney) Sequim & Port Angeles Real Estate, LLC
Last Updated on July 5, 2008 by Chuck Marunde