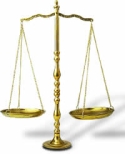 Did you know Port Angeles and Sequim (and Clallam County for that matter) have an online resource for local real estate law?   Back in 1995 Chuck Marunde built his first website while practicing real estate law, and it became a very popular online legal resource for people around Washington state.   Even professors used it in Pierce and King County.
That site's progeny lives on today with megabytes of real estate law, statutes, articles, checklists, and links to actual case law.   Want to know how a foreclosure works on either a deed of trust, or how a forfeiture works on a land contract?   You'll find it there.   Need a comprehensive checklist for buying land?   Want to know about excise tax fraud?   Need to know about adverse possession or an easement by prescription?   Do you have a fence line dispute with your neighbor, or does your neighbor's tree branches overhang your fence?   You'll find the answers and much more at:
FreeRealEstateLaw.com
Another valuable service brought to you absolutely free by retired real estate attorney Chuck Marunde, J.D., now your favorite Realtor in Sequim and Port Angeles.
Last Updated on September 2, 2019 by Chuck Marunde