This is a cute little home for sale in Sequim. It sits on just under one acre (.99 acres), and it has a beautiful little old barn. The three bedrooms are small, and the kitchen could use updating, but at $215,000 this is a wonderful home for sale in Sequim. The living room is very large, and there's a family room also with a wood stove. This is a very affordable and practical home.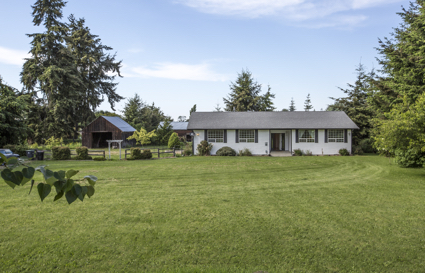 For Sale in Sequim
There is one negative for some buyers. It is on the Old Olympic Highway. This is not busy like Highway 101, but there still is traffic passing by at 40 mph. This won't bother some buyers at all, and if you stand at the front door, you can measure the traffic noise yourself. I was surprised, because it was fairly quiet when I stood there. This is a rare find, and it's going to be a wonderful home for the one lucky buyer who finds this is the ideal home for them.
For Sale – A Bargain Price
You can learn more about this home at For Sale in Sequim, and if you would like to see this home, call me (Chuck) at 360-775-5424. Update: This home has been sold.
Last Updated on September 7, 2019 by Chuck Marunde