Sequim home values are not easy to determine. In other words, Sequim home values cannot be determined mathematically as easily as they can in many metropolitan areas. This makes it more difficult for buyers to know how much a home is worth, and it makes it harder to know how much to offer. I'll explain why this is true, and how buyers can decide how much to offer on the home they like.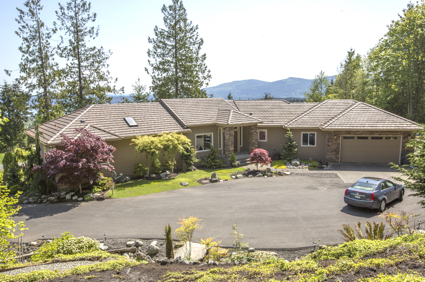 Sequim Home Values
In a metropolitan area with hundreds of homes selling every week, it is not hard to find comparables (comps) and define the value of a home listed for sale. Comparisons with large numbers will provide a good statistical sample to determine a range of fair market values (FMVs). In a small market like Sequim's, we don't always have comps to determine FMV with certainty.
Using comps is the primary method to determine FMV today, but appraisers also use the "cost of replacement" method. The cost of replacement will add up the value of the land, the excavation, the septic and well, and the cost of building the home to determine a total value. During this 8 year recession, Sequim home values have been lower than the cost of replacement by 20% to 30%.
Sequim Home Values and Offers
So what do you do when you find the ideal home and want to make an offer in a small market like the ones we have in Sequim (or Port Townsend)? How do you know what Sequim home values are for a home like the one you want, and how much should you offer?
First, if you're not from this area, and you are not in real estate full time, you will have to rely on your buyer's agent to advise you on price. There's no way around that, which only makes the point I gently have made elsewhere: do your online due diligence and make darn sure you have a buyer's agent who is knowledgeable, professional, experienced, and honest. Every buyer's agent will claim to be all those things, but it is your job to do your research and find that agent so you can know you are getting the best advice when it comes to making an offer.
Second, you can do a great deal of analysis yourself by searching and comparing homes online at Sequim-Homes.com. You can also look at the county assessor's values for homes, although those numbers are not precise either. While this kind of research is important to do, it still takes a lot of interpretation with knowledge of the local real estate market. If you have an iPad, you may want to purchase two short eBooks written by Chuck Marunde for Sequim retirees: Buying Your Retirement Home (Book 1), How to Search for Your Home, and Buying Your Retirement Home (Book 2), How Much to Offer. You can find them in the iBookstore by simply searching the title or by searching "Chuck Marunde".
Third, in the process of making an offer and determining what Sequim home values are for the home you want, make sure you have an intelligent discussion with your buyer's agent about values and how you can know what a home is worth. Do not shoot from the hip, and be sure you are making an offer based on solid reasoning. The last thing retirees want to do when they buy a home is pay too much, so when you make an offer, be sure you have a good handle on Sequim home values.
Last Updated on September 7, 2019 by Chuck Marunde