Home sales are better than they've been for 8 years according to the National Association of Realtors. The NAR reports that home sales increased 3.2% to an annual rate of 5.49 million homes, the highest level since February of 2007. This accounts for the brisk sales in the Sequim market this year. In an earlier article (Sequim Home Sales) I compiled this data showing how sales have increased in Sequim and Port Angeles.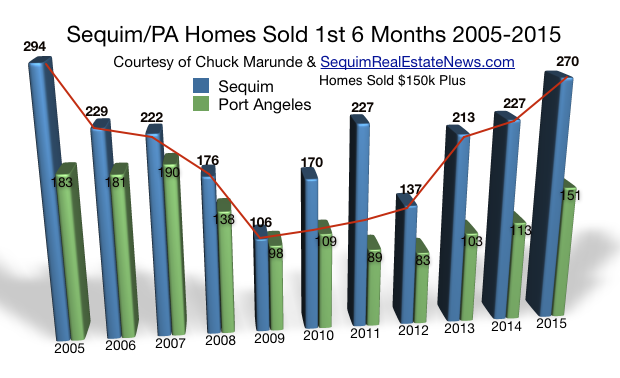 Home Sales Way Up
This year home sales are up nationally 9.6% from a year ago. Where do buyers of Sequim homes come from? From all over the United States, so when home sales increase elsewhere, we see an increase here. And the chart above shows how dramatic that increase has been. It follows the national trend, but it's even more impressive. Home sales for the first 6 months of each year in Sequim have been increasing accordingly, but notice on the chart that so far in 2015, sales are better than they have been since 2005. That's impressive.
Home Sales and Buyers
We are shifting from a buyer's market to a seller's market. I'm not saying it is definitely a seller's market, because it isn't, but we are making the shift in the current market. The inventory of nice homes is limited, sellers are now getting full price on many homes, and retirees have continued to buy homes in Sequim every day of the week. Home sales are good.
Last Updated on September 22, 2019 by Chuck Marunde