Sequim and Port Angeles has many homes for sale, and in this competitive market (a buyer's market), sellers must do everything they can to make a home attractive to buyers.  There are some things over which a seller has no control, such as the architecture and floor plan.  And sellers can't do anything about the location of the home, or the outbuildings.
Homes for Sale Should Look Good
But there are many things a seller can do to make their home appeal to potential buyers.  There are the obvious things, such as staging the home, or arranging the furniture to make it look as nice as possible.   With all the homes for sale, a home for sale should be clean, and some like to have coffee brewing or fresh coffee beans on the kitchen counter for the pleasant aroma.  These are all good, but there are a few really big deal killers that sellers should be aware of.
Homes for Sale Deal Killer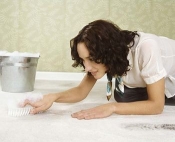 Smells are a huge factor when buyers are walking through a home.  Bad smells alone can push buyers away completely.  Since buyers have so many choices with all the homes for sale, sellers cannot afford to make mistakes.  Here's a true story.  I showed a home to a couple because the home fit the general parameters of our search.  The location was good, and the size and floor plan was good too.  But when we walked in the front door, there was a horrible cat urine stench.  It was so strong, we hesitated before going further.  We all knew this home was immediately off the list, but out of curiosity we walked through the home, and the strong urine smell permeated the entire home.
Homes for Sale with Smells
I showed another home to a couple from California, and again this home was within the search parameters for my client's ideal home, but when we walked down the stairs into the daylight basement, our noses warned us we were walking into a high moisture area with a strong moldy smell filling the entire basement area.  With all the homes for sale today, this strong moldy smell is a deal killer.
Some of the homes for sale with bad odors will simply sit on the market and will not sell.  No one wants them.  Some of these homes have been listed for sale for one or two years or even longer.  Discerning home buyers are not going to buy a home with an unsolvable odor or moisture problem, not when there are so many homes for sale and so many choices.
Last Updated on July 27, 2012 by Chuck Marunde