Who is the best Sequim home builder and the best Port Angeles home builder?  I have no hesitation in answering that question after talking to hundreds of Sequim home builder clients here since 1994.  As a practicing real estate lawyer for many years here, I picked up many clients from nearly all the home builders in the area, so I got an education I didn't have to pay for, and I learned a lot of confidential information I would otherwise never have learned.  I won't talk about specific Sequim home builders (nor Port Angeles home builders), but we don't need to.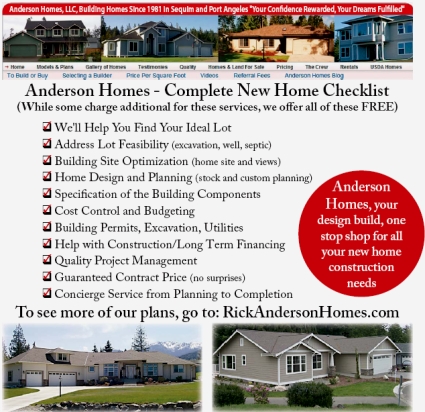 What retirees want is a builder that can fulfill this checklist, and only one Sequim home builder can check all of these in my experience:
Sequim Home Builder Checklist:
Absolute honesty and integrity;

Full disclosure up front on costs and estimates;

Accurate bid and spec sheet in detail with no surprises;

No games and shenanigans during the entire process;

The highest quality construction materials and labor;

Outstanding project management (not chaos on the job);

Experienced with cost saving measures with architectural designs;

Large Sequim home builder supplier discounts passed on to clients;

Highest past client satisfaction rate of any local Sequim home builder (over 400 homes built since 1981);

Only 5% down payment (compared to 30% by almost all others);

Guarantees the contract price; and

No surprises with extras and change orders.
Sequim Home Builder Competition
Sit with almost any home builder in the country, including a Sequim home builder and a Port Angeles home builder, and you will hear exactly what they know you want to hear.  Almost all of them look good, smile nicely, smell good, and know the answers you want to hear.  That's sales for you.  Give them what they want and get them to sign the contract.
I have heard to many nightmare stories about what happens after the contract is signed and they've paid their 30% down.  There isn't room here for all the stories.  The real point is that there is a Sequim home builder who can check off all the items on this list.
The best Sequim home builder and Port Angeles home builder in my opinion is Rick Anderson of Anderson Homes.  You can click on the link in the image above to go directly to his website, where you'll find home sketches, photos, floor plans, and testimonies. If you are retiring to the Sequim area, I strongly recommend Rick Anderson for your Sequim home builder.
Last Updated on September 1, 2019 by Chuck Marunde