How a home for sale is advertised and promoted to prospective buyers is a fascinating study.  Buyers often share their frustrations about how different a home appears when they see it compared to the photos or descriptions they saw online.  I've been watching this since the mid-1970s when I first got in real estate sales in Fairbanks, Alaska.  Then I observed how a typical home for sale is advertised as I lived in Spokane, Las Vegas, Puyallup (in the Tacoma-Seattle metropolis), and for the last 18 years in Sequim and Port Angeles.
Home for Sale Ads
When you're looking online for your perfect retirement home, you'll undoubtedly filter through hundreds of homes.  It's tough to narrow that search down to half a dozen to one dozen homes, isn't it?  The job is made harder if descriptions or photos of a home for sale are not precisely accurate depictions of what you will see in a live 3D version when you get here.

I had a client call me from southern California to tell me he was going to get on an airplane and come to Sequim to look at a home that sounded absolutely perfect.  He said the advertisement described it as a bungalow with a traditional kitchen and a water view.  One of the photos showed a nice water view.  I told my client on the phone, "Before you spend the money and time to fly here, let me run out to Discovery Bay and look at the home, take a few photos for you, and call you back with my impression.  In other words, I'll be your boots on the ground before you come to Sequim."  He liked that, and what I found out saved him the trip.  The house was so old, it was barely inhabitable.  The kitchen was traditional if traditional means 1934.  There was no water view from ground level or from any of the windows in the house, but there was a peek-a-boo water view if I stood up on the hill behind the house with my feet level with the peak of the roof.  The water view shared a lot of power and telephone wires and a large shop building on a neighboring property.
Home for Sale Advertisements True or False
Today on the business news the commentator boasted that Bank of America stock was up 16% this year.  This reminds me a lot of the way that some homes are advertised.  What the commentator represented was technically true, but actually was the opposite of the real story from a longer term perspective.  This graphic illustration makes the point by showing the real story of Bank of America (BAC) stock.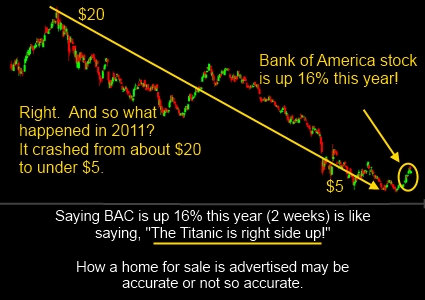 Home for Sale Representations
It can be hard for buyers from outside the Sequim area to view homes online with photographs and limited descriptions, but I'm here to help if you need more photos or more information about what is adjacent to the home or what the views really are.  I can be your boots on the ground and preview the property for you, email you photos, and share my observations of the property, it's condition, and what the views are around the home.  I love doing that, so please don't hesitate to ask.  I'd love to help you find the perfect home for sale and make it your dream home.
Last Updated on January 16, 2012 by Chuck Marunde