Most Seattle real estate brokers do not know how to view all the Sequim listings, because they use the Northwest MLS (NWMLS), and Sequim Realtors use the Olympic Listing Service (OLS). These are two completely different listing services. Seattle real estate brokers are not members of the OLS, which means if they look up a Sequim real estate listing in the NWMLS, it may not be there. Only 55% of the local listings are in the NWMLS. This article will explain exactly how Seattle real estate brokers can see all the listings in the OLS.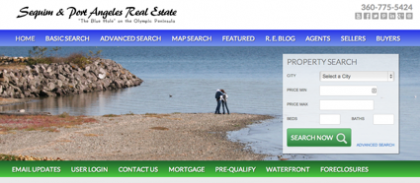 Seattle Real Estate Brokers Cannot Find Sequim Listings
Seattle real estate brokers often have buyers for Sequim properties, but they normally look in the NWMLS for Sequim listings. When they don't find a particular listing or what they are looking for, they may think the property is not listed. To learn more about the two listing services and how they work in Sequim, read OLS v. NWMLS.
Seattle Real Estate Brokers Use Best Sequim MLS Site
The most powerful Sequim MLS that is easy to navigate with convenient links and also includes all the local listings is found at Sequim4Sale.com. This is the best Sequim MLS site for Seattle real estate brokers to use when searching for property for their own buyers. There is even a live assistant to help with any searches at 360-775-5424. To all Seattle real estate brokers, I say in advance, "Use the site all you want, and you're welcome."
Last Updated on November 26, 2013 by Chuck Marunde