Is it hard to find a foreclosure that is a good deal in Sequim or Port Angeles? The short answer is yes, but there's much more to the answer that you should know. There's nothing wrong with buying a foreclosure, if it's a fantastic price in a great area with a floor plan you love. So how hard is it to find a foreclosure in the Sequim area like that?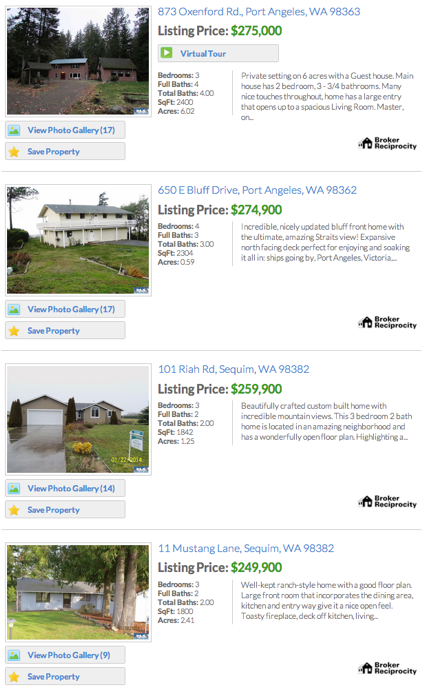 Find a Foreclosure in Sequim
The foreclosure database in Clallam County is quite limited, so I've had to pull together several sources, including Foreclosure.com, RealtyTrac.com, the county auditor's two websites and others.  The Foreclosure.com site lets you look at some of the information, but then they make you register for a free trial.  I'm was paying a monthly subscription fee for my clients to be able to see this site, but they wouldn't automatically transfer my subscription to my clients.  Frankly, that site had many limitations. Most of their listings were not actually foreclosures that were for sale. They included homes that were in default, but if you dared knock on the door of one of the houses, the owners would often get really ticked, tell you that their home was not for sale, and that their mortgage affairs were none of your business. I don't recommend using Foreclosure.com or RealtyTrac, neither of which has access to the original source of information for foreclosures, the Clallam County Auditor's Site which records the Notice of Trustee's Sale and subsequent documents.

 
I have also written extensively about buying foreclosures and how to search for them in the Sequim and Port Angeles area, and you'll find the first seven articles at:


If you haven't already found it on my site, you can search the entire Sequim and Port Angeles MLS, including foreclosure REOs now listed for sale, and this is the entire list of all local foreclosures for sale now:
You can see from the list that there are few "steals" in the Sequim area. If you expect to find a foreclosure that is an unbelievably low price, below any other homes in the MLS, you may be disappointed. Even investors with money burning a hole in their pockets are not finding garage sale prices when they try to find a foreclosure here. I have sold a couple of short sales and a couple of foreclosures to my buyer clients, but that includes the last decade. Sometimes you have to wait for the bank to lower the price until it gets realistic, but even then it's rarely a steal. If a home is a nice home in a good area, and if it is priced at fair market value, it doesn't matter if it is a foreclosure or not, it will sell in a reasonable period of time in Sequim.
Find a Foreclosure
Check out the MLS link above with all the foreclosures, and if I can help you find a foreclosure that you want to see, email or call me anytime.
Last Updated on September 21, 2019 by Chuck Marunde