Real estate advertising is dramatically changing, because consumers have changed the way they shop for real estate.  Traditional print media is struggling to remain relevant, because consumers have been empowered to take control of their own destiny and they are doing it.  I absolutely love this reality:  New York Advertising Agencies no longer dictate what products and services will be crammed down consumers' throats; Consumers now have the power to research and shop on the Internet with total control of their decision making process (and their wallets).
But this means traditional media is struggling just to survive.  Another big one bit the dust yesterday.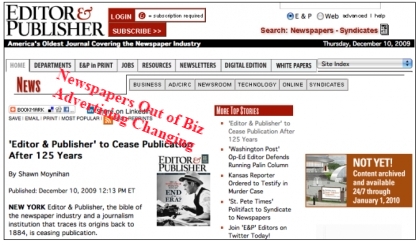 The Huffington Post reported today, December 15, 2009, "After 125 years as the 'bible' of the newspaper business, Editor & Publisher magazine announced yesterday that it would shut its doors at the end of the year."
This continues the hemorrhaging of newspapers and magazines trying to survive this new economy.  The challenge is not just that we are in an economic recession, although that certainly is a major factor.  The bigger reality is that there is a massive shift in consumer control from the old to the new, and  Internet technology has created the fertile soil in which this new marketing and advertising medium is so rapidly growing.
Real estate is unquestionably one of the major industries that is so dramatically effected by these extraordinary changes.  How real estate is marketed and advertised is in the midst of changes  I've not seen in my 30 years in the real estate business, and consumers are clearly the winners.  They now have more tools and more freedom to find their next home than ever before, and they can do it more efficiently, faster, with no annoying sales pressure, and have fun in the process.  This is the age of the new real estate broker–the virtual real estate broker.
I give you Sequim and Port Angeles Real Estate, LLC with hundreds of articles, videos, MLS search tools, and many other great tools and guides for buyers, all absolutely free.  Read, watch, and find your next  Sequim or Port Angeles home here, and enjoy yourself along the way.  If I can be of help, email or call.  I'm chuckmarunde@gmail.com and my phone is 360-775-5424.
Last Updated on July 27, 2012 by Chuck Marunde