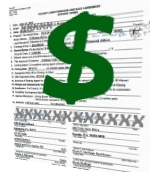 A client asked me how listing prices affect offers and whether some buyers are unwilling to make offers based on the listing prices.  Here's what I've observed on listing prices and offers.  Buyers don't have any mental barriers to making a lesser offer, except when listing prices are above the threshold of what they consider the upper range of fair market value.  In other words, if a listing price is within their mental range of fair market value, they will make an offer that is less, and it will be whatever they feel is reasonable and a good buy for them.  But if the listing price is what they consider to be unreasonably high or substantially above fair market value, they shy away and won't even make an offer.  Their thinking seems to be that they are so far apart on price, why bother!
Listing Prices v. FMV
Their notion of fair market value is based in part on objective data, like comps their Realtor has shown them as well as their own online MLS search and the homes they have already viewed.  But even the objective data is subject to all kinds of subjective mental associations.

Listing Prices and Realtors
Realtors tend to be afraid of offending a client, turning a client off, or pushing a client away in some subconscious way and losing a sale and commission.  (This is also true for listing agents who really really want the listing.)  As a result Realtors often do not give buyers the one thing they really need–blunt honesty on listing prices.  Price is the one area where that gap is fed by some of these misconceptions (or fears), and where a buyer might walk away rather than make an offer they feel is reasonable.
Listing Prices Must Be Fair
Many homes in Sequim do not get offers at all exactly because of this.  The bottom line for sellers is that if your home is grossly overpriced in the MLS, it may not even get an offer.  Do not assume that buyers will make lower offers and that there is plenty of room to negotiate.  If a buyer feels your home is grossly overpriced, they may not make an offer of any kind.  Listing prices matter and to sell they must be reasonable and not far from FMV.

Last Updated on February 6, 2012 by Chuck Marunde