Are you interested in articles for buyers written specifically to help you do your research and find a home in the Sequim and Port Angeles area? This is the largest real estate blog on the Olympic Peninsula and one of the largest real estate blogs in the nation with over 1,700 articles written specifically for buyers. With articles for buyers on almost every conceivable subject, buyers have called this a gold mine of information. We have been answering questions that buyers have been asking for 20 years in the Sequim area. If you don't find your answer with our powerful search tool, email us, and we will find the answer for you. We've put together some of our most popular articles for buyers with links below.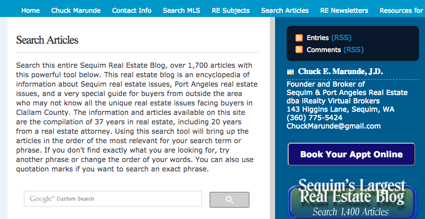 Over 1,700 Articles for Buyers
Search the Best Sequim MLS and Port Angeles MLS
(with 5 videos)
Search the Olympic Listing Service and Northwest MLS
at the Same Time
How to Find Foreclosures
Negotiating Price (Multiple Articles)
What's Involved in a Home Inspection?
Sequim Real Estate Books for Buyers
Sequim Maps and Documents for Research
Answers in Articles for Buyers
These eight articles are the tip of the iceberg of information for buyers that goes very deep. You can also search all of the articles on this real estate blog with any word or phrase, and here's how to do that:
How to Find The Answer to Any Real Estate Question (for Sequim and Port Angeles)
If you do not find the answer to your question, email chuckmarunde@gmail.com and be sure to put "Question Please" in the subject line, and we will answer your email, and if it is appropriate, we will add an article addressing your issue so other buyers can benefit also. We hope all our articles for buyers are helpful.
Last Updated on September 22, 2019 by Chuck Marunde