We have an oil rig in Port Angeles, and it's probably the largest rig we've ever had in the Port. The Polar Pioneer is an oil rig built in Malaysia on its way to the Chukchi Sea off the northern coast of Alaska. It is over 355 feet high, which means it towers over the entire city of Port Angeles and all its buildings.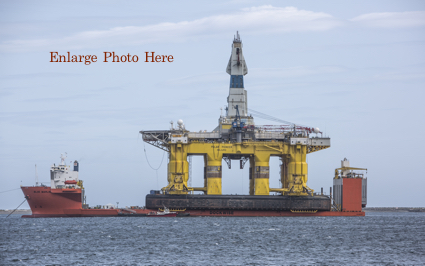 Oil Rig in Port Angeles
You can enlarge the photo above by clicking on it, and open this oil rig in Port Angeles to fill your computer screen. It's worth enlarging, because you can see incredible detail on this rig. You can also see each of the 10 crew members on the little boat alongside the rig. We don't get many gigantic ships and rigs like this in the Port of Port Angeles, so this is quite a sight. The rig is so tall, it can be seen from many miles away up and down the coast. Notice how the oil rig dwarfs its ship, Blue Marlin.
It's entertaining to see an oil rig in Port Angeles of this size.
Last Updated on September 7, 2019 by Chuck Marunde