Are we really seeing the death of newspapers? The incredible growth of the Internet has come at great expense to traditional print newspapers. The National Association of Realtors says that 95% of all home buyers start their search for a home on the Internet, not in print newspapers. There was a time when we searched for homes in the classified section of newspapers, but no more. Buyers love the Internet. It's easy and fast, it's powerful, and it's free and anonymous. No wonder buyers love the Internet.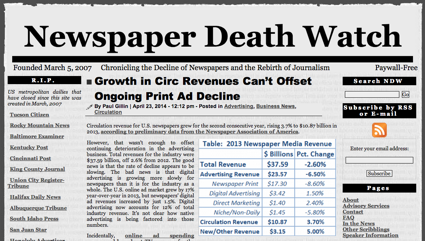 The Death of Newspapers
This is the largest real estate blog in the entire Sequim and Port Angeles area, and perhaps on the entire Olympic Peninsula with over 1,500 articles written for buyers. What single article on this blog do you think got more comments than any other article in the last eight years? It is an article I wrote on October 30, 2008 on this blog. It received 41 great comments from readers around the country. Their comments are worth reading, even if you don't read the article. That article is about the death of newspapers and the rise of the Internet. You can read it at: Print Newspapers Dying.
It's sad that so many print newspapers have gone out of business, filed bankruptcy, or merged with other companies, but consumers are driving the news business with their dollars. Their eyes have turned to the Internet. If you haven't read some of the fascinating articles about the dying print newspaper business, I recommend a site called Newspaper Death Watch. It chronicles the death of print newspapers in America. 
The Death of Newspapers No Surprise to Home Buyers
One reader, Bob, wrote, "The paper edition will lose readers and no one can do anything about that. The way I see it is that online editions are cheaper, easier, and faster compared to paper editions. And also another important aspect is that it's a 'greener' alternative and you don't have to store the newspaper."
All of this is no surprise to home buyers, because you are using the Internet to search for your next home. And you're reading this news on the Internet.
Last Updated on September 21, 2019 by Chuck Marunde