Looking at older Sequim homes can be an adventure and a lot of fun.  The architecture was simpler in days past.  Many buyers are looking for the best value for their purchasing dollars, and older homes are often less expensive than newer homes.  There are many older Sequim homes in the area, some 100 years old.  Some of these old homes were farm houses in the center of a large 100 to 500 acre farm.  It's surprising how many are still standing tall and lived in today.  As a matter of fact, my daughter was born 15 years ago in a 100 year old farm house in Sequim adjacent to the Olympic Game Farm on Ward Road . . . with the assistance of a midwife of course.  I cut the umbilical cord.  True story.
Older Sequim Homes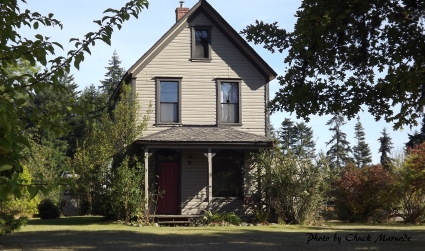 Two story salt box homes like this were common a century ago.  The construction was simple, and the floor plan with a second story was an efficient way to heat a home with a wood stove on the main floor and a large vent in the ceiling to the second floor.  If the vent was placed at one end of the home and the stairs were at the other end of the home, a hot wood stove would create a natural draft circulating throughout the two floors.
Older Sequim Homes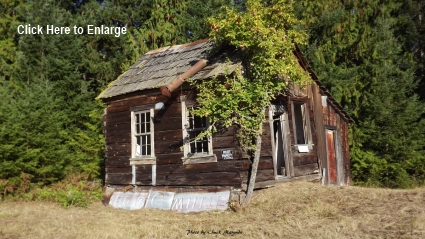 This home above is one of the small older Sequim homes that has long since been abandoned.  You can see the full photograph by clicking on the image above.  This old home has character, and I couldn't resist having my own little photo shoot around this home last week when the sun was out.  (What am I saying?  The sun is always out in Sequim.) 
Older Sequim Homes
After looking at many older Sequim homes over the past 18 years, I would share these potential issues of concern that come up periodically and that you might want to put on your checklist. 
When you walk into an older Sequim home (whether it is 100 years old or built in 1927 or 1947), notice immediately if there are any unusual odors, of if there appears to be an excessively high moisture level.  A strong musty odor is usually the first sign of potential mold or mildew, which can be dangerous to your health.  Some people have no adverse reactions to mold in a home, but others have severe reactions, most notably irritations in the eyes, coughing or sneezing, scratchy throat, or other symptoms that are really warning signs of health endangering spores in the air.  When you walk through a home, look at the windows to see if there are any signs of black mold.  Look at the wooden window sills for signs of water stains.  You might also look in the bathroom behind the toilet and around the shower or tub, as well as in the laundry room for signs of mold.

If you are going to finance your home, it must pass the strict requirements of loan underwriters.  An appraiser will have a detailed checklist, and the home must pass the checklist.  Included on that list is a foundation that meets underwriting requirements for the type of loan you are seeking.  The VA, FHA, and conventional loans all have different requirements.  Older Sequim homes often do not have a continuous concrete foundation.  That could kill the loan.  There are other types of foundations that may satisfy lenders, but if the home sits on wooden posts that go directly into the dirt, you're probably not going to get financing.
Newer homes are built to higher standards for air circulation and construction.  You might find an older Sequim home that has been rehabbed by someone who put a lot of money into it, but if it needs a lot of work, you might want to hire a contractor to provide estimates before you finalize a purchase.  There are many beautiful older Sequim homes for sale, and with some luck, you might find the perfect one that passes your stringent investigation.
Last Updated on October 23, 2011 by Chuck Marunde