How to buy a home is no small question even for the experienced.  Buying a home these days is full of traps for the unwary.  You can be the smartest buyers in the history of Sequim or Port Angeles, and you can be the most experienced buyer on the Olympic Peninsula, and yet you can still get caught by a trap for the unwary, even if you are wary.  If you've been reading this real estate blog, you already know that I practiced real estate law for 20 years, and I've been in real estate going back 37 years.  So I've seen good people, smart people, get caught by many of these traps.  Some traps cannot possibly be seen in advance, but there is a way to avoid getting caught.  It's very simple, and it may sound too simple.  You may even say, "Well, for Pete's sake, I knew that!"  And you probably will, but then why do so many buyers keep getting caught?  Because they don't know or they don't heed this advice.
How to Buy a Home – Couple Find Perfect Home
My retired clients and I viewed many homes until finally we found the perfect home.  It was vacant, needed some loving care, but otherwise was a gorgeous custom built home less than five years old.  Everything checked out on the site, nothing wrong with the home.  The acreage was fenced and just fantastic.  The location was great.  The neighbors were all good folks.  The price was right.  Nothing wrong with the driveway, the septic, the well, or any other physical aspect of the property.  These clients knew how to buy a home.  So what is the trap for the unwary here?

Answer.  The trap for the unwary buyer here is something that I discovered that was hidden from me and my client.  I don't know if the listing agent knew before I told her.  There was nothing in the real estate records or the title report about this trap.  There was no indication on the property itself.  I only discovered it because my intuition told me to look in a place no one ever looks.  For some unknown reason, I decided to go to the country building department and look at the building permit file.  Guess what?  There was no building permit for this house.  None whatsoever.  Had my clients and I not discovered it ourselves, they might have bought this home and discovered much later to their great dismay that it had no building permit.  [Title companies do not check building permits, nor do banks or mortgage companies check building permits every time, so this home might have been sold without a permit and without the buyer knowing.]
How to Buy a Home – Couple Find Home with Acreage
A wonderful retired couple, clients of mine, find the ideal 10 acres with a wonderful country style home.  They know how to buy a home.  They've bought several.  This home is their ideal retirement home.  It seems perfect, and after reaching mutual acceptance with the seller, financing is approved and the appraisal comes in good.  What is the trap for the unwary?  There is standing water in the crawl space.  Had my clients not hired a home inspector who put on his overalls and crawled through the crawl space with his flashlight and digital camera, we would never have known.  The sellers agreed to hire a contractor and do the necessary work to drain and permanently fix the problem.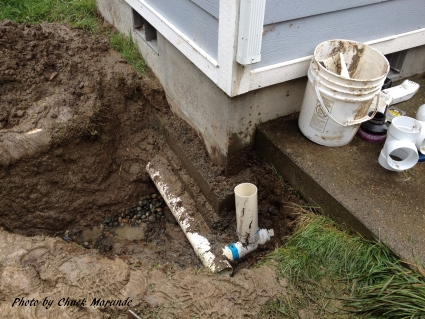 How to Buy a Home – Retirees Buy at Perfect Time
A husband and wife find their retirement home, but it is in the middle of the winter when they decide to buy this home, although they certainly knew from experience how to buy a home.  If everything would check out perfectly in the summer months, what could possibly be the trap for the unwary if this home is purchased in the winter months?  This happens to be the wetest time of the year, from December into March.  The septic system was inspected during the due diligence period, and it passed the inspection.  In the days to follow, prior to closing, it was raining pretty hard.  The septic alarm went off, and it turns out the septic was full of water.  It shouldn't have been, but it was.  Water was draining right toward the septic tank, which was buried deeper than it should have been, and while the risers from the tank to the surface with the lids were sealed to keep water out, water was leaking into the tank and filling it up.  The answer was an entirely new septic system at a cost of $5,000.
So when it comes to how to buy a home, what is my advice for buyers to avoid these traps?  The answer is to work with someone who knows about the traps and who can help you avoid them.  That was simple, right?  It is simple, but there's wisdom here.  Try hiring a brand new doctor who just got out of med school to do his very first heart transplant . . . on you.  Try hiring a young carpenter to build his very first home . . . yours.  Try hiring a financial adviser who has never invested in anything himself . . . to manage your life's savings.  Why hire a Realtor who doesn't have extensive experience?  The question about how to buy a home is best answered by hiring a Realtor with the experience to help you avoid traps for the unwary.  There are a thousand mistakes and a thousand traps for the unwary.  You don't need to know all of them.  You only need to know someone who has spent a lifetime learning them for you.  Now you know how to buy a home.
Last Updated on September 20, 2019 by Chuck Marunde