Freshwater Bay, just west of Port Angeles, Washington is about a 12 minute drive from the city, and is one of the Olympic Peninsula's most beautiful water front havens on the entire west coast.   Gorgeous five acre parcels are common, and extraordinary views of International waters from the first and second decks are also common. Here's a photo of the public boat launch on Freshwater Bay that gives all the homeowners free access to the Bay and the Strait of Juan de Fuca.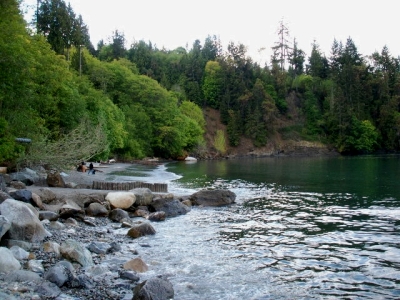 When I took this photo, I sighed and said, "Another day in Paradise."
If you're looking for a home or land in this gorgeous paradise, email me.   I have had a gorgeous home listed just a skip and a hop away from this location in the photo, but it is temporarily off the market getting appraised and  a loan modification.  It will come back on the market when all that is completed.  The owner is still interested in selling, so if you would like to know about it, let me know.
Last Updated on November 5, 2009 by Chuck Marunde