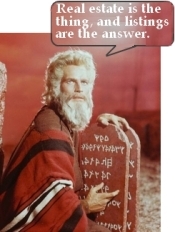 There was a time (decades), when real estate agents were taught all across the U.S. that the business is all about listings.   Listings, listings, listings.   Agents were told that's where the money is.   Get listings, because even while you're on vacation, your homes can be selling and you'll be making money.
That time is over.   An agent could have many listings, especially in the worse markets, such as Las Vegas, and not make a single dollar.   Some agents have not sold anything this calendar year!
Real estate ownership is still "the thing," but for agents listings are no longer the ultimate answer to success.   The key to success for agents today is qualified buyers.
Connecting with qualified buyers is the great challenge of the day for real estate agents and for FSBO's who are trying to sell their own homes. This is where it gets interesting, because few agents and few FSBO's have a solid understanding of the technology, marketing, and tools necessary to connect with buyers.
We have entered a new age of marketing and the old rules are rapidly fading into the history of "that's the way we've always done it."   The fascinating thing about the dramatic changes in the way buyers and sellers are connecting is that there has not been a clearly demarcated point in time, nor has there been a definitive event.   It would seem that these powerful changes for the transfer of billions of dollars in real estate has snuck up on us.
I would suggest that "the thing" today is effective marketing, and that is happening most powerfully today right in people's homes at their computers.   Searching the Internet for real estate anywhere in the country is private, non-confrontational, easy, free, and instantaneous.   Is it really a surprise consumers would move   en masse in this direction?
Last Updated on August 14, 2008 by Chuck Marunde