This Port Angeles waterfront home for sale is between Sequim and Port Angeles, and it is high bluff property with a panoramic water view of the Strait.  Looking to the west you can see Port Angeles and the Coast Guard station, and looking to the east you see the stunning waterfront coast that is the Olympic Peninsula at its best.
Port Angeles Waterfront Home for Sale
How does high bluff Port Angeles waterfront property sound to you?  How about this.  A gourmet cup of coffee, or green tea, or a glass of wine.  A bench on a high bluff, like the bench in this photo.  Add a beautiful sunny day, a ship or two on the horizon, and you have a recipe for the kind of peaceful moment you can have again and again right here.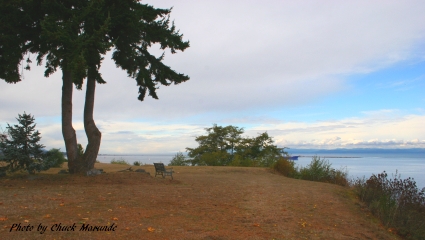 Port Angeles Waterfront Home for Sale
This home was actually built in 1956, but as you can see in this photo, there were a few upgrades, including a modern kitchen with lots of counter space and cabinets, too.  The north side of the living room is all windows opening up to the extraordinary water view.  This Port Angeles waterfront is a sight comparable to any waterfront view on the west coast.
Port Angeles Waterfront Home for Sale
Learn more about this Port Angeles waterfront home at P.A. High Bluff Property with more photos and a detailed description of the home, or call Chuck for an appointment at 360-775-5424.

Last Updated on November 26, 2012 by Chuck Marunde