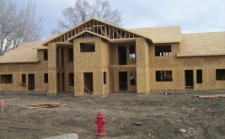 Two pieces of news struck me lately as significant news that the Western Washington Real Estate Market of Seattle and all the way through Sequim and Port Angeles is strong, certainly compared to most of the rest of the country.   Here are the stories.
The Seattle Post Intelligencer wrote an article entitled, "When it comes to new jobs, Seattle is the leading cybercity," dated June 24, 2008.   "The Seattle area added the greatest number of high-tech jobs in 2006, outpacing Boston, San Fransisco and more than 50 other U.S. cities, according to the Cybercities report from the American Electronics Association." Seattle's tech wrok force is not 127,700 strong, which makes it the ninth biggest city for tech workers.
The other news with very strong implications for the real estate business is from the "New Project News, Washington State Construction News."   The publication reports the following construction news:
118 unit Capital Hill area mixed use apartment-retail-office development receives conditional DNS go ahead
42 story mixed use residential-office-retail development slated for 601 Fourth Ave in Seattle
5,000 home unit Yelm residential-commercial development progressing
8-unit residential townhouse project proposed for W. Seattle
134,000 s.f. 6 story N. Westlake Ave-South Lake Union area office retail project gets conditional DNS approval
176 unit N. Seattle area residential senior development progressing
20,200 s.f. Seattle area Magnolia-Interbay area office space change of use and expansion project subject of revised application
4,900 s.f. Isaaquah area commercial office development receives mitigated DNS approval
133 unit 8 story lower Queen Anne area mixed use residential-retail development in early phase
17,300 s.f. Olympia area light-manufacturing addition receives MDNS approval
40 story 366 unit mixed use retail-residential development slated for 1823 Minor Ave. gets conditional DNS approval
12,000 s.f. W. Seattle area mixed use -retail apt development continuing in design review stage
4 story Kirkland arae office-retail project receives DNS approval
4 story Renton area apt office development slated for use by Veterans nearing DNS approval
84 unit 7 story Belltown area residential retail project in the works
40,000 s.f. 3 story W. Bremerton area commercial-residential development nearing DNS approval
41,800 s.f. Rochester area Industrial process-fabrication facility development receives mitigated DNS approval
30 unit 4 story mixed use residential retail project proposed for Beacon Hill
27 lot Othello area residential subdivision project gets mitigated DNS approval
263,500 s.f. UW Campus medical center facilities expansion in the works
and there is another 20 to 30 more just like this.
The point is the real estate market is far from dead here, and economic activity in the real estate business is anticipating growth and more growth.   This is all good.   The Northwest continues to be one of the strongest real estate markets and economies in the nation.   Yes housing sales have taken a hit, but 100's of millions of dollars are getting pumped into the real estate market by major plays in the real estate industry.   You can bet they've done their demographic and economic studies before risking so much of their own money.   We have a bright future.   We just need to be patient and remember, "This too shall pass."
Last Updated on July 9, 2008 by Chuck Marunde