Advertising drives almost everything today, even which real estate agent some buyers and sellers hire. How do you choose your real estate agent? I received a call from a homeowner who wanted to sell her home, and she was clearly impressed with which agent has the most listings or who sells the most homes. Little did she know the danger of her approach. You might be thinking that I must not be a top producer if I'm critical of consumers' choices based on quantity and not quality. You would be wrong. I am the number one individual selling agent of single family homes for all of 2013 in Clallam County, which includes Sequim and Port Angeles. And are you ready for this? I'm telling you that your choice should not be based on impressive stats that focus on quantity and not quality. Here's why.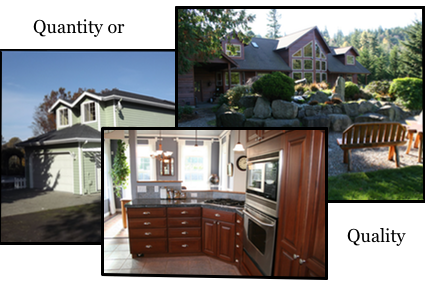 The Quantitative Real Estate Agent
Mass advertising focuses on getting consumers to buy the product or service, and far too often it's not about the quality of the product or service. It's all about selling quantity and making money. There's nothing wrong with hiring a real estate agent who is a top producer and sells a lot of homes. I do, and I would hope you would consider hiring me, but if quantity is the sole basis for your decision, you would be making a grave mistake.
Do you really think the real estate agent who advertises the most is the most qualified? The most knowledgeable? The most competent and professional? Or do you think he is the most honest? He or she might be, or not, but these qualities have nothing whatsoever to do with mass quantity. In fact, at some point quantity always compromises quality.
The Qualitative Real Estate Agent
Have you ever heard the statement, "Things are not always as they seem?" I'm sure you have. Advertising and name recognition alone are not, and should never be, the ultimate determinant of who you select as your real estate agent. They certainly can be the way a name comes to your attention, but that should be the beginning, not the end, of your research. Take it from me, the top selling agent for 2013, quantity alone should not be the basis of your decision to hire a real estate agent. For your consideration here is an interview checklist for your prospective real estate agent.
Last Updated on September 6, 2019 by Chuck Marunde