This Sequim water view at Diamond Point is made for you if you are thinking about retiring to the Sequim area and want an affordable home in very good condition with a Sequim water view in a peaceful area far from traffic noise. This is a two story home, but everything you need is on the main floor (the 2nd floor). The kitchen, living room, master bedroom, bathroom, and laundry room are all on this main floor, and you can see from the photos how great the view is. This home is brand new on the market today and is likely to sell very fast, because the listing price is only $239,000.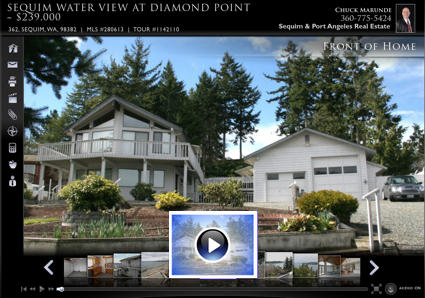 Sequim Water View from Diamond Point
You can learn more about this home at the main MLS data sheet at Sequim Water View Home. You may have read this is one of my recent articles, but retirees from around the country have been arriving in Sequim early this spring. Homes are selling better than they have in many years. The one thing this home does not have that many people want is a huge master bedroom with a large master bath. This is an older home in excellent condition, move-in ready, but it does not have a large master bedroom. For the right buyer this home is an extraordinary price.
An Affordable Sequim Water View
You can email me (ChuckMarunde@gmail.com) or call me (360-775-5424) for a showing. I could be wrong, but I think this one will go very quickly. Are you looking for an affordable Sequim water view?
Last Updated on September 21, 2019 by Chuck Marunde