Buying or selling real estate is not a guessing game. In other words, you don't have to shoot from the hip on major decisions as to how to buy or sell real estate, and your professional real estate agent should not be guessing either.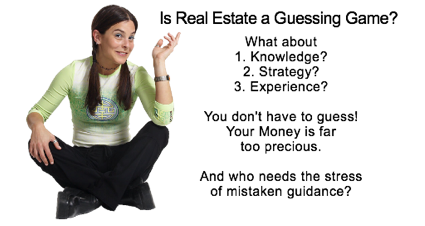 Why would I write an article like this? Because I hope to help buyers, and sellers in particular, avoid a common pitfall in real estate. True story. A homeowner had her home listed for sale for many months, and it had not yet sold, nor were there any offers. She said what many homeowners have said around the country when experiencing the same challenge, "Well nothing has happened, so maybe I need to try something different. Maybe I should try to sell it as a for-sale-by-owner, or maybe I need to list with another Realtor." We can all understand those sentiments, but her conclusion may be 100% right or 100% wrong, and I can explain exactly why.
Real Estate Marketing
Here is why she was 100% wrong. Her Realtor had the best marketing system in the area, the most expansive promotions to qualified buyers, and had an extensive presence promoting the area with articles, photos, videos, as well as deep syndications of the listing around the entire country. You can do everything right when it comes to marketing and still not connect with the right buyer in any particular time period. But assuming your real estate agent does do the best that can be done, that still doesn't guarantee a quick sale. What it does do is reach the most qualified buyers and increase the probability of selling your home at the highest possible price in the shortest amount of time, but statistics cannot tell us precisely when that qualified buyer will arrive. It could be the first week of the listing or the 10th month or much later. Statistics are useful when talking about the market in general or thousands of houses, but statistics are not predictive when it comes to a specific piece of real estate.
But, and this is a big but, if this homeowner's real estate agent does not have a powerful marketing system and the knowledge and experience to reach the most qualified buyers, then this homeowner would be 100% correct that she should do something different, i.e. list with a Realtor who does have a powerful marketing system. The challenge for the average homeowner is that they don't have the experience to be able to discern which Realtors have good systems and which ones do not. Sales pitches from real estate agents begin to sound the same, and even if they don't, few homeowners comprehend the technical explanations of how marketing has changed.
Real Estate Knowledge
An experienced professional real estate agent who operates out of an abundance of knowledge and real estate experience knows how to do his or her job, and they know exactly what to do and when to do it. That's the kind of real estate agent you can stick with even if you don't get magical results quickly, because you and your agent are doing everything that can be and should be intelligently done to buy or sell your real estate. But if you don't have that kind of real estate agent, then you should "do something different." The challenge for any buyer or seller is to have the discernment to know the difference. You don't have to know all about marketing or the details of handling your real estate transactions, but you do have to be able to discern the difference between real estate professionals.
Last Updated on November 22, 2013 by Chuck Marunde