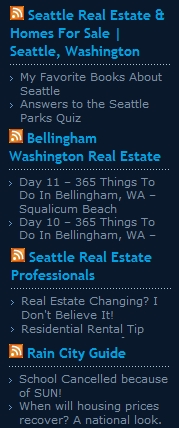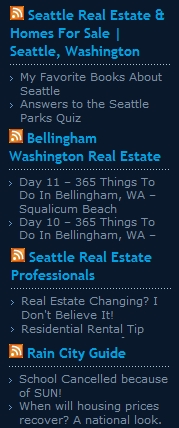 Sequim Real Estate News is pleased to announce another cool addition to this blog for all our readers, many of whom are regular subscribers to our Tuesday evening email newsletter (Sequim Real Estate Email Newsletter).  Keeping up on real estate news in the Pacific Northwest can get confusing.  What are the best and most interesting resources for news and opinions from Sequim to Seattle?
I have collected those news sources for you and placed them in the right hand column of this blog near the bottom.  As news is updated on each of these sites, the links to the articles will scroll down, and you can click on any article title and instantly be reading the full article.  I guess you could say this is Pacific Northwest real estate news at your fingertips on the most popular Sequim Real Estate News blog.
Don't miss Edy Kizaki's selection of the top 17 Best Books About Seattle, or Michael Eisenberg's 365 Things to Do in Bellingham, or Rich Peralta's Green City USA – Portland.
Courtesy of Chuck Marunde, your favorite Realtor.
Last Updated on July 27, 2012 by Chuck Marunde