Golf on the Olympic Peninsula is a golfer's dream. Golf courses on the Peninsula have two major advantages over golf courses in the Seattle area. The first is the rain. Sequim gets one-third the rainfall of Seattle. Serious golfers love the weather on the Olympic Peninsula. The second blessing on the Peninsula is no crowds. I took this photo of a golf course near Port Townsend recently, and just look at the crowd!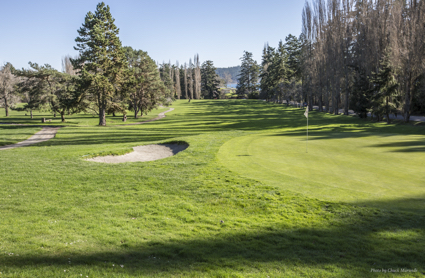 Golf on the Olympic Peninsula
This may be one of the best kept secrets of the Olympic Peninsula. I've written about Sequim Golf Courses, and what beautiful courses Sequim has. The Cedars at Dungeness is definitely one of the best of the Sequim golf courses.  It is a year-round 6,610-yard, par 72, 18-hole Championship course.  It is actually the driest course in Western Washington, and that includes all the Seattle area courses.  This allows The Cedars at Dungeness to host a number of Pro and Pro-Am tournaments throughout the year.
Golf Anyone?
If you are an avid golfer, and you are considering the Sequim area or Port Townsend area as your retirement destination, email me at ChuckMarunde@gmail.com or call me at 360-775-5424, and I'll be delighted to show you around and view some potential homes.
Last Updated on March 11, 2015 by Chuck Marunde