I've been busy showing a Sequim home for sale every day almost all week to clients.  I have always loved looking at homes.  I think it is fair to say that I don't don't look at homes so much because I'm a Realtor, but that I'm a Realtor because I love looking at homes, the unique architectural styles, the gorgeous water views, mountain views, and valleys, and because Sequim is such a wonderful place to live on the Olympic Peninsula.
Sequim Home for Sale
Recently one of my clients and I viewed three Sequim homes for sale.  There was a fourth on the list, but it sold out from under us.  That happens when you filter the list to the best of the best–even in this market.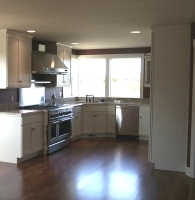 The first Sequim home for sale sounded great from the listing data sheet, although the photos did not give us a complete feeling for the house.  It was nice in many ways, but there was a cramped feeling in the upstairs hallway and bedrooms, and some of the space was not efficient or useful.  After we completed walking through and around it, I had a feeling from seeing so many other houses that this listing may be overpriced by at least $100,000.  Curious, I asked my client what he thought about the home and the price.  After sharing a couple of negatives, he said, "I think it is overpriced by at least $100,000."  Scratch that one.
Sequim Home for Sale Not a Bargain
The second Sequim home for sale was a 1980's style home with medium custom built quality, nice open lighting throughout the house, and a sweet view of a golf course along one side of the house.  The floor plan was pretty good, although there was one room at the end of the house that left us wondering.  The listing price was not unreasonable, but there was one major short coming.  There was only enough parking space for one or two cars outside the garage, and turning the car around would almost certainly be a big problem for guests.  Scratch that one.
Sequim Home for Sale a Bargain
The third Sequim home for sale we looked at was a winner.  Beautiful, high custom quality construction, a great floor plan, a stunning water view, lots of natural light, and a fantastic price.  This is a home in the six hundred thousand plus range, but even so it would cost approximately $1,000,000 to buy the lot and improve it and build this Sequim home for sale.  This home is what I call a "pleasant surprise."
Now is a good time to look at homes. Call me at 360-775-5424. I'd love to show you a Sequim home for sale that will become your perfect retirement home.
Last Updated on September 4, 2011 by Chuck Marunde