Sequim Realtor Chuck Marunde is a nationally recognized expert in real estate marketing and Internet marketing.  This morning Chuck met with 2,500 Realtors in an online webinar to share concepts in his new book, The New World of Marketing for Real Estate Agents.  Real estate marketing and sales is one of Chuck's passions.
Sequim Realtor Teaches Realtors How to Market Listings
"Real estate sales and the way we market homes has dramatically changed in these past few years.  The way buyers search for homes and how they hire their Buyer's Agent has moved into the future.  This means that traditional real estate marketing and the traditional bricks-and-mortar real estate brokerage model is now on life support."
Sequim Realtor Teaches Realtors Internet Marketing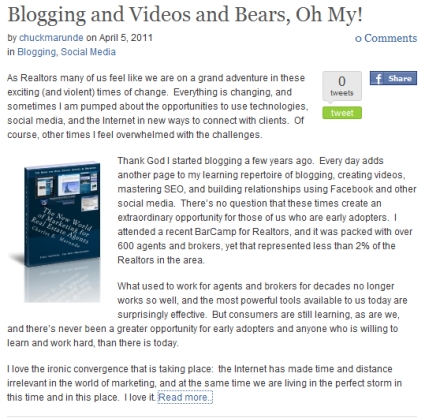 Sequim Realtor Connects Clients on Internet
Chuck admits his true identity as a Sequim Realtor, "I love real estate, writing, blogging, photography, and videography.  I love marketing , using technology and the Internet to help clients.  And I enjoy sharing anything and everything I've learned in 30 years in real estate as a Realtor and real estate attorney.  The vast majority of agents today are still struggling with old business models, what I call the traditional bricks-and-mortar brokerage model.  It's not working, and there is a whole new world of marketing.  Hence the title of my new book, The New World of Marketing for Real Estate Agents."
While Chuck enjoys teaching other Realtors, his bread and butter, and his first passion is working with buyers.  He is probably Sequim's number one Buyer's Agent.  How did that happen?  Effective marketing, the same kind of effective marketing Chuck uses to reach buyers and to help homeowners understand how they need to list and market their homes for sale.
Your friendly Sequim Realtor is Chuck Marunde.
Last Updated on September 2, 2019 by Chuck Marunde