The Seattle Space Needle is a Seattle Landmark, and a nice 2.5 hour trip from Sequim.  You can drive to Bainbridge Island and take the Ferry to downtown Seattle.  This is a very pleasant drive both ways any day of the week.  You can park and ride, in which case the Ferry ride is about $7, or you can take your car and pay about $14.
Seattle Space Needle at Night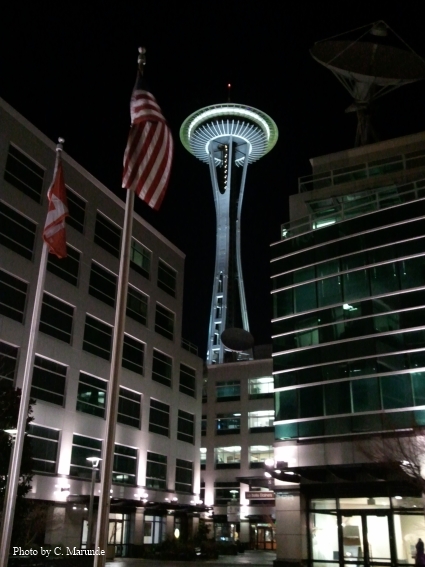 Seattle Space Needle is Beautiful
The Seattle Space Needle is a beautiful structure.  I took this photo from a different perspective from downtown Seattle on a nice warm evening where locals where out walking their dogs and going out for dinner or a concert.  Everyone obviously felt quite safe walking around, and so did I.  There are some areas of Seattle, like almost any city, where I wouldn't want to walk around at night.  The Seattle Space Needle is in a great area of the city and there's plenty to do and see.
Seattle Space Needle and Events
Living in Sequim, Washington is the best of both worlds.  It is country living in a peaceful and quite environment between mountains and ocean, and it is within a pleasant drive of Seattle where you can go watch a Mariner's game or a Seahawk's game.  Or you can enjoy some find dining and a concert.  There's just about everything you could want to do within a stone's throw of the Seattle Space Needle.
Last Updated on September 4, 2011 by Chuck Marunde