Sequim homeowners heard things they had never heard before at last night's seminar, How to Sell a Home in This Market, conducted by real estate broker, author, and attorney (ret.) Chuck Marunde.  There was serious talk as well as some laughter by all who attended.  The gist of the seminar was that Sequim homeowners should be aware that marketing a home and selling it has dramatically changed in the past few years.
Sequim Homeowners and Traditional Marketing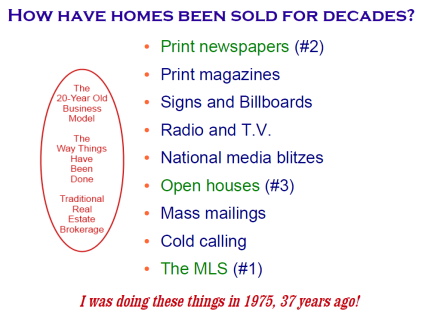 Sequim Homeowners
When you look at this list of how homes have been sold in the past, it becomes obvious that many of these techniques are just not very effective anymore, and there's a good reason for that.  Buyers have developed new habits and preferences in their search for a home, how they hire a Sequim real estate agent, and how they do their due diligence.
The seminar covered the most effective strategies to market a home and connect with qualified buyers today using technologies and the power of the Internet.  The next seminar is not yet scheduled, but if you are a Sequim homeowner and want to attend the next seminar, you can register for it, and you'll be contacted when we have a date and time.  Learn more and register at Sequim Homeowners Real Estate Seminar.
Last Updated on June 12, 2012 by Chuck Marunde