A Sequim waterfront home with beach access is hard to find, and this kind of property is also is in high demand.  The vast majority of buyers who are moving to Sequim to retire and buy a home would prefer a Sequim waterfront home, and who can blame them?  Who wouldn't love to be able to walk out the back door and into the sand barefoot?  Okay, maybe not barefoot, but how great would it be to be able to walk from the back deck to the sand in the morning with a hot gourmet cup of Starbucks?
Sequim Waterfront Home Video
Sequim Waterfront Home Exclusive
This Sequim waterfront home is on the beach with a view of the Strait of Juan de Fuca, the Sequim-Dungeness Lighthouse, Mount Rainier on the horizon on a clear day, and that's just on one side of the house.  Look out the dining room window on the other side of the house, and you're  looking at one of the best views of the Olympic Mountains on the entire Peninsula!  I've located this home on this map to show you how this home is situated in a perfect location.  Honestly, could this location and water view be any more perfect?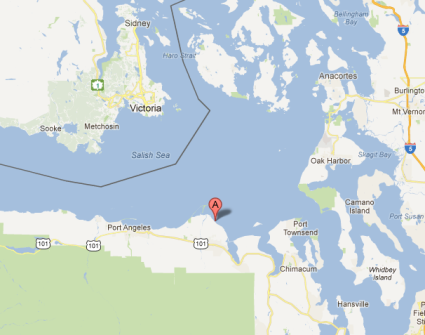 Sequim Waterfront Home + Protected Acreage
From the house toward the mountains are 70 acres owned by the few homeowners on this private street, and this 70 acres can never be built on.  In other words, the view to the mountains will forever be clear and protected.  Try and find a Sequim waterfront home or any waterfront home on the west coast with both beachfront and an extraordinary mountain view.  This really is a rare home.
Learn more about this home and see the entire MLS listing data sheet at Sequim Waterfront home.
Last Updated on June 12, 2012 by Chuck Marunde