There are many Sequim homes for sale, and there are many Sequim real estate agents.  How can you find the perfect home and what is the process?  If we were having a conversation at Starbucks, and you ask me that question, here is what I would share are the keys to finding the perfect Sequim home.
Sequim Homes for Sale – Nine Steps to Finding Your Home

First, do your research online before you talk to anyone.  Why?  Because you can now do so much valuable research right from your own computer any time of the day or night without interference by a real estate agent.  Many people say that they don't want to call an agent out of the blue, because now that agent may hound you with phone calls and emails, and maybe you don't even want to work with that agent.  You may just want information about a listing.  And if you call the listing agent, he/she will want to be a dual agent and represent you and his selling client.  That's not in your best interest.

The answer is to use a website to search the entire Sequim MLS and the entire Port Angeles MLS.  You can also use this search site to have it send you the latest listings based on the specific parameters you select.

Search the Sequim MLS for Sequim Homes for Sale, and I created a video that will show you how to get the most out of your search at Sequim Video.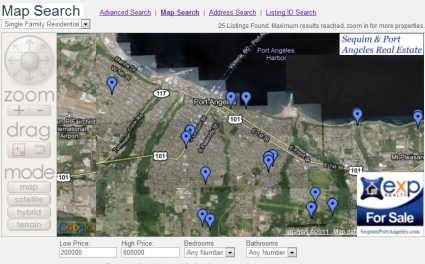 Second, learn as much as you can about Sequim homes for sale and especially about Sequim real estate issues.  You can do that by reading the largest Sequim real estate blog with over 950 articles written specifically about Sequim real estate issues that buyers may not know about.  Use the search box on the blog (just below where it says "search this blog" to search just about any real estate subject, and you'll find one or multiple articles on that subject.   If you want to search foreclosures, you can do a search of our local Sequim foreclosures here.
Sequim Homes for Sale Newsletter

Third, keep up with news about Sequim homes for sale and real estate topics by signing up for an email newsletter that is emailed to you once a week with all the latest articles.  You can sign up at Sequim Real Estate Newsletter.
Fourth, you can learn more about Sequim businesses, including restaurants, B&B's, golfing, fishing, kayaking, and hundreds of other Sequim businesses and organizations by going to a special site I put together at Sequim Business Directory.  I've included a description of their business, their contact information, and a link to their website to make it easy for you.

Fifth, use this powerful Sequim Real Estate Market Report site to see what is listed and what has sold.  You can look at a map showing the locations of these homes as well as detailed information and photos at Sequim Real Estate Market Reports.
Sixth, if you are considering buying a Sequim lot to build your own custom home, you'll want to see the number one Sequim and Port Angeles custom home builder since 1981.  You'll find his website and blog at Sequim Custom Homes.
Seventh, since knowledge is power, I recommend a 310 page book written about Sequim homes for sale and Sequim real estate issues, which you can learn more about at Buying and Selling Real Estate in the Rain Shadow.
Eighth, I strongly recommend that you do your due diligence in selecting a Sequim real estate agent or a Port Angeles real estate agent.  I believe it is definitely NOT in your best interest to hire an agent who is a dual agent, and there's no doubt that you will want an experienced professional with a lifetime of knowledge that will protect you from traps for the unwary as well as help you negotiate the best possible price and terms.  Read some of my articles on the Sequim Real Estate Blog about the dangers of dual agency.
And ninth, if you have any questions of any kind, you are welcome to email me anytime at chuckmarunde@gmail.com or simply call me on my direct line at 360-775-5424.  I would love to represent you as your Sequim Buyer's Agent.  I hope these resources are helpful as you look at Sequim homes for sale.

Last Updated on September 2, 2019 by Chuck Marunde