Sequim Realtor and Buyer's Agent Chuck Marunde is very busy this spring.  That's good news for sellers, because Chuck is busy representing buyers as a Sequim Buyer's Agent.  Here Chuck shares what buyers have been doing.
Sequim Realtor Chuck Marunde Busy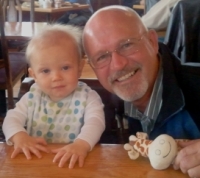 I probably showed four dozen homes in the past few weeks to five different retired couples.  I love looking at homes, and I love showing clients homes as a Sequim Realtor.  All of these clients spent a lot of time before arriving in Sequim using the Sequim MLS search site and emailing and talking with me about prospective homes.  So they had already narrowed their search of 800 homes to a select filtered number of possibilities. [Yes, that's me in the photo with my grandson Kale having breakfast this week.]
One home closed the week before last, another will close at the end of this month.  I also wrote an offer on a house that was listed for about $600,000.  It was overpriced by a large sum, and my client's offer reflected a FMV offer, but the seller rejected it and the counteroffer was not reasonable.  My client will buy another house.  I wrote an offer for another couple on a house that is unfinished.  The offer was a good and reasonable offer, but my clients did expect a counteroffer.  The counteroffer never came.   The seller got angry.  She will never sell an overpriced home, especially in this market.  My clients are going to buy another home.  I wrote another offer two weeks ago.  We were very close on agreeing to a price, but the seller demanded a $6,000 non-refundable earnest money before they would let my clients do their inspections.  Of course, my clients walked away from that ridiculous scenario, and they will buy another house.  And lastly, I wrote another offer this week, and a reasonable counteroffer was made on price, but with a little due diligence, my clients decided they did not want to deal with bluff instability and a drainfield problem.  None of these offers were low ball offers or unreasonable in any way.  The counteroffers were unreasonable, except the last one.  As a Sequim Realtor I share information and experience with my clients so they can make wise decisions.

Sequim Realtor Having a Great Time

So I have my work cut out for me in the coming weeks to show more homes, and this weekend I have new clients arriving in town to look at homes.  I also continue to help many clients who will be arriving in the months ahead.  One of the things that takes much of my time is answering clients' questions via email about any and every Sequim real estate issue.  I also send my clients more photos on homes they like, because so often the MLS photos are insufficient.  That's my job as a Sequim Realtor and I love it.
Last Updated on September 4, 2011 by Chuck Marunde