Sequim homes on 5 acres are paradise for someone coming from the metropolis who wants privacy and peace and quiet. You could stand on your back deck in your birthday suit on this property, or almost anywhere on this 5 acres, and no one would see you. You can't hear traffic. There's no need for air traffic control either, unless you see too many eagles flying around as they do regularly. The house is just beautiful inside, too. How do you put a price on peace and quiet? There aren't many Sequim homes on 5 acres for sale, but this one is available for a short time . . . until someone snaps it up. Spring is here, so that's what happens when retirees find the perfect dream home. They just buy it, and it's gone. Watch this virtual tour, and you'll see what I'm talking about.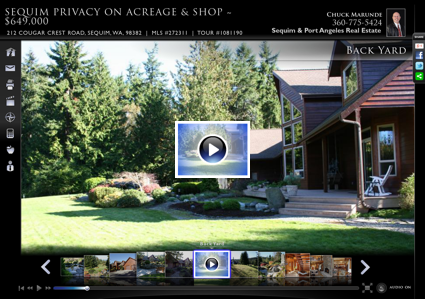 Sequim Homes on 5 Acres
The living room has a high cathedral ceiling with windows spanning the height, which you can see in the image above. What a gorgeous view of the pond and landscaping and yard and trees, and in the distance there is a small view of the Strait of Juan de Fuca. Inside there's a big stone fireplace with a wide hearth, and on a cool winter day the wood stove is a welcome comfort. The large master bedroom is everything you could hope for with a walk-in closet plus a large master bath and soaking tub. On the other end of the house the garage is the man's playground, and it is actually 31 feet deep. There's also another shop or single garage area. This is one in a thousand among all Sequim homes on 5 acres.
Buyers Want Sequim Homes on 5 Acres
Come and see this property and home. It's definitely worth seeing. You can look at the full listing sheet and photos at Sequim homes on 5 acres. UPDATE: THIS PROPERTY HAS BEEN SOLD.
Last Updated on September 21, 2019 by Chuck Marunde